« August 2007 | Main | October 2007 »
September 30, 2007
Can I use the word "schlep" in a paper?
Yes. If the Wall Street Journal, New York Times, and Washington Post use it, then you can, too.
Two weeks ago, New York Times' writer William Safire did an in-depth study of the word "schlep" in his On Language column in the newspaper's Sunday Magazine.
He explains the two accepted definitions of the word and some that are unacceptable. The verb of schlep is to drag, haul or lug, normally involving weariness works. The noun form of the word is a pull, drag or jerk doesn't work so well.
The parts of the article that I like the most are when he talks about the word schmooze (obvi) and when he quotes James Joyce as one of the earliest references of schlep in English (derived from the Yiddish).
After reading this article, I am also a huge fan of lexicographer Sol Steinmetz (I'm going to go buy his lexicographer rookie card). He is a fervent believe that shlep — just like shmooze — should not be spelled with a "c."
Posted by irobi at 07:06 PM | Comments (0)
September 24, 2007
The next generation of gingerbread houses
If Hansel and Gretel were wandering through Israel, this is the building that they would come across, a sukkah made entirely of candy.

The 1,000 square foot sukkah will be made out of two tons of candy-shaped ornaments, with tghe lights and walls covered in candy and bubble gum.
After scouring the English-speaking web, I have been unable to find a picture of this magical sukkah.
But — fear not — once the holiday opens up this week, every Jewish website will have a blurb about this creation and mirblogn will get a photo of it. I just want you to remember where you were (on the internet, of course) when you first heard about the candy sukkah.
Posted by irobi at 05:28 PM | Comments (1)
September 23, 2007
Shmooze's Daily Double
Shmooze events in the 2007-08 school year: One
Shmooze mentions in the Daily: Two
In its list of things to do in Ann Arbor this weekend, the Daily Arts' B-Side section listed the Shmorzefest alongside Ellen Lupton and The Bad Plus as things to do on Thursday night.
Shmorzefest also landed as one of the day's feature photos on page 7.


JEREMY CHO/Daily
Engineering senior Ilana Riback plays guitar at a backyard campfire on Elm Street while LSA freshman Joey Eisman shows LSA senior Heather Goldstein how to play the didjbox, a box-shaped didgeridoo last night. Others were roasting shmorze over the fire, which are s'mores made with Reese's Peanut Butter Cups. The event was the Second Annual Shmorze Fest held by the Shmooze Club, a Jewish cultural club that emphasizes good food, good times and good conversation.
Posted by irobi at 12:24 AM | Comments (1)
September 16, 2007
NYT searches for the perfect kugel
On the eve of Rosh Hashanh, Melissa Clark of the New York Times wrote an article about her search for the perfect kugel. I block quoted the entire text at the bottom of the post.
Not ony does it delve into the attributes of such a creation, but it also goes on a journey through the Clark's attempt to create the utlimate kugel. it treats the culinary adventure of cooking an kugel into a introspective adventure through a person's identity and ancestry.
Does this story sound familiar?
Each winter, the Shmooze Club does just that.
Now, a few issues with the story:
I do appreciate her refences to modern interpretations on the kugel
I would call the milchig kugel an occasional kugel because you only eat it on Shavuos and Yom Kippur break fast. It is Shmooze Club policy that a kugel should almost always be pareve.
Great-Aunt Martha can't make a good kugel. Aunt Minda can.
Any article that doesn't include a reference to the bundt pan removes some legitimacy
EVERY family tells the same stories over and over, and one of ours is about kugel. It is dusted off and recited on Rosh Hashana when, over my mother's experimental kugel du jour (roasted-red-pepper-scallion or chickpea-cumin), someone inevitably tells the tale of how Great-Aunt Martha's famous noodle kugel recipe came to be.

HEIRLOOM NOODLES Some traditions just need to be refined.
It goes like this. When Uncle Alan was a child he liked only the crunchy kugel top, and so would pick the crisp, golden noodle shards off the surface while the kugel cooled in the kitchen. He did this for a few years until his mother, my very practical Great-Aunt Martha, came up with her legendary solution. She began baking the kugel in muffin tins so that it would be crunchy through and through. And if Alan did deface the tops, she reasoned realistically, she could serve the kugel-muffins turned upside down.

Being of the crunchy-loving, burnt-noodle-picking sort myself, I always listened with interest, wondering what such a marvelous sounding kugel would taste like, and why we didn't make it that way.

"It was kind of dry and hard, and not that good," my mother said when I got around to asking last year. "Aunt Martha wasn't a great cook. But it's a good story."

Of course, a better story would end in a prized heirloom recipe for a noodle kugel that was crunchy and burnished on top, but still creamy and moist underneath. Made with luscious dairy products, melted butter and many eggs, this noodle-rich legacy would be sweetened with cinnamon, sugar and plenty of soft, chewy raisins. Maybe I could tweak Great-Aunt Martha's basic mixture into something closer to my kugel ideal.

"Aunt Martha never used raisins or sugar or cinnamon; her kugel was savory," my mother said when I related my fantasy.

So much for rehabilitating Great-Aunt Martha's recipe. Instead, I decided to steal her form (baking in muffin tins for maximum crunch) but create my own kugel content.

Freed from ancestral bonds, I could go off in any number of kugel directions, just as long as I kept the dish's essential spirit intact. But what, exactly, was that? Given the outré kugels of my childhood — the lasagna-esque mixes of onions, tomatoes and noodles; the herb-layered potato and mushroom gratins — what exactly could I get away with and still call kugel?

I asked my mother.

"Oh, I don't know," she replied. "I guess as long as it has potatoes or noodles or matzo and you serve it on a Jewish holiday, it counts."

This actually wasn't far from what slightly more responsible research bore out. Rabbi Gil Marks, in his thorough "World of Jewish Cooking" (Simon & Schuster, 1999), writes that a kugel (which comes from the German word for ball) was originally a dumpling made from flour or stale bread that was cooked in the cholent, a Sabbath stew of beans and beef.

In 2005, Joan Nathan defined kugel in these pages as a casserole traditionally made from noodles or potatoes. But, she added, more modern interpretations could include anything from rhubarb and blueberries to panko, goat cheese and broccoli.

Frankly, compared with what my mother had been whipping up for decades, those variations sounded pretty run-of-the-mill. What I really craved was a classic noodle kugel made the way Great-Aunt Martha should have made it (says me).

Recipes for that kind of eggy, raisin-laden noodle kugel were almost too easy to find. Since my family is not kosher, separating meat and dairy isn't an issue, so I immediately dismissed anything calling for tofu cream cheese. I also nixed recipes with bread crumbs or nut or cornflake toppings. What I love about kugel is what Uncle Alan did — the crunchy noodles. Cornflakes and their ilk just aren't the same.

After skimming dozens of recipes, I eventually chose cottage over farmer cheese because I wanted it to be organic, and my supermarket doesn't stock organic farmer cheese.

I decided to add sour cream for a velvety texture, and use one more egg than most recipes call for, for lightness. Then I doubled the amount of cinnamon, because I like it.

I also decided to soak the raisins before mixing them in. Not only would the soaking liquid add flavor, but soaking the raisins would keep them from burning in the extra-hot oven needed for a very dark brown kugel top. For the soaking liquid, I could have used dark rum, Manischewitz Concord grape wine or kirsch, but settled on sherry since I had an open bottle of fino I wanted to use up.

I mixed everything together and filled my muffin tins. There was still a lot of kugel mix left, so I buttered a jellyroll pan (as opposed to a deeper casserole dish) and filled that, too, figuring that the greater amount of exposed surface area would yield a higher crisp-to-soft ratio, mimicking the muffin tins. Then I baked everything at a slightly higher temperature than usual so that the top would get extra crisp before the bottom had a chance to dry out.

The kugels emerged from the oven gorgeously golden, with the tips of the noodles singed to a chocolate hue.

Then I sampled both versions. As good as the muffin-kugels were, the kugel baked in the jellyroll pan turned out even better — just like crème brûlée, toothsome on top, but much softer and more custardy underneath, and studded with sweet pockets of plump raisins. Finally, an heirloom-worthy recipe I could pass on to any heirs that may appear.

And as an added bonus, baking the kugel in a jellyroll pan meant I wouldn't have to scrub out individual muffin cups when the party was over. Now that would be something ever-practical Great-Aunt Martha would have definitely appreciated.
Posted by irobi at 04:40 PM | Comments (1)
Shmooze meeting 1: How did the violence ice breaker turn into camp stories?
Rachel's suggestion: Musical chairs meeting? We'll figure out the logistics.
Before the meeting: Ruby texted in his icebreaker response: my favorite candy is Snickers (frozen).
Icebreaker: Most violent summer, crime you've, or anything.
Ian: While on a camping trip, I witnessed the most intense camper-to-camper violence any tripping staff member had witnessed. The boy in the middle of the canoe turned around and started hitting the girl in the back of the canoe in the head with his paddle. It was pretty intense.
Yael: I was a counselor this summer for sixth grade girls. The boys stole our candy (which if you're allowed to have food in the cabin, is a camp that I would like to go to) and put it in boats in the middle of the lake. When the girls got the candy back, the boys started attacking the girls (apparently, the rules of shomer negia don't apply to intergender fighting). The boys started taking the food back, and the girls started hitting them. Apparently, someone was put in a headlock.
Ari: I saw someone get hit by a car, but I'm not going to tell about that. I was on a motorcycle in Vietnam this summer. I was getting of the bike and put my leg on the muffler and it curdled my skin (I question Ari's choice of verb, but I'll let his words stand on their own).
Shoshana: I can't think of anything.
Sam: This summer, I took out a trip to Alaska. We were playing four-square at a rest area, and I went to the bathroom. When I came out of the bathroom, I saw an early 90's/late-80s car yoink our sidewalk chalk (the arm came from the passenger-side window). We couldn't play anymore four-square.
Lizzy: I didn't witness this one. When I was at Bonnaroo two years ago, someone got run over by Ricky Skaggs and the Kentucky Thunder's tour bus. (Lizzy's a big fan, and I've never heard of them)
Rachel: A bag of chips got decimated by a box tool
(I went to Family Defense Products to get thsi picture).
Dina: I was a lifeguard two summers ago, and a little boy started drowning. I saved him. (I think he owes you a lifetime of servitude.)
Ryan: Somehow I was at some hick county fair in the backcountry of Massachusetts, and they had an ox pull. It was just cruel watching it.
Hannah: On my camping trip, some guys pulled up to our campsite, harassed us, and started quoting Chucky movies. I was with a bunch of 13-year old girls. One of our staff members threatened them with a knife, and, depending on who you listen to, the kids left immediately or in an hour.
Jamie: We'll come back. (Actually, we won't. But she promised to come to another Shmooze meeting and introduce herself)
Andrew: I was a counselor this summer and another one of the counselors had a water-balloon launcher. Our kids had always wanted to play with it. So, we thought "Why don't we launch balloons at them?" Most of the time, the balloons wouldn't hit the kid (key word: most). One time, a kid's chest got in the way of balloon hitting the ground. It was three days before the end of camp, and we had to explain to his parents why he a giant bruise over his heart.
Shoshana: I was on a camping trip with Avery and Zak Weinstein. (They're not brothers. They don't even have the same last name. That's just how she said it.) And a camper shat her pants. She got out of the tent and yelled that she needed toilet paper. The counselor said you don't need the toilet paper because girl just went to the shitbox (box near campsite where you shit). The camper responded that it was too late — she had already gone. Avery and Zak started celebrating. In the morning, we realized that she got out of the tent and went again in the middle of the night (not in her pants, but next to and on the tent).
Andrew: Two summers ago, another camper in my age group. (Digression, actually a regression) We have a climbing apparatus. There is space for two at the top. The kid at the top decided it would be a great time to pee in his pants and have it trickle down the climbing wall.
Shmorze Fest 5758: The Shmooze Club's annual escape back to summer camp will be next Thursday as Shmorze Fest will return for its second year. It will occur at 517 Elm. (More specific details to follow later.)
After revolutionizing the bonfire world with the invention of the Shmore (replace Hershey's with Reese's Peanut Butter Cup [We've check the records, and it never happened before.].) last year, the Shmooze Club will attempt to have a similarly groundbreaking event this year. Things that will happen:
S'mores
Shmores
Shmoozing
Guitar
Summer-camp story retelling
Wondering when Michigan will win its first game of the season (this was sent out before the Notre Dame game)
Wondering when Michigan will lose its first game (volleyball)
You telling your friends to attend
This list will expand
Matt walks in and grabs Sam with the intent to scare.Shabbat dinner: The first Shmooze Shabbat dinner of the year will be hosted by 1145 S. Forest. It will be October 12. Expect more details to come later. Also expect to leave satisfied.Hot dog cart: There have been a lot of rumors going around about the hot dog cart. Let me address some off them:
The hot dog cart is already open, but it's on North Campus: I can neither confirm nor deny this, because I don't know where North Campus is and have never been there. If the cart is open on North Campus, I wouldn't know about it. (How much longer can I make the I've-never-been-to-North-Campus or North-Campus-is-in-BFE jokes? Perpetuity.)
The hot dog cart will be LEEDS-certified:
Isn't Leeds a city in England? How would they certify a hot dog cart?
The hot dog cart is just a rumor spread by Ian to promote the Shmooze Club:
That would be a brilliant idea, wouldn't it? There actually is a hot dog cart, and we have a non-Photoshopped photo of Ian working it. Or at least you think it's not Photoshopped.
Posted by irobi at 01:45 PM | Comments (0)
September 07, 2007
This could be bad news for the future of society
In a recent experiement involving chimpanzees, orangutangs and 2.5 year old human babies, it turns out that babies are not that much smarter than their primate counterparts.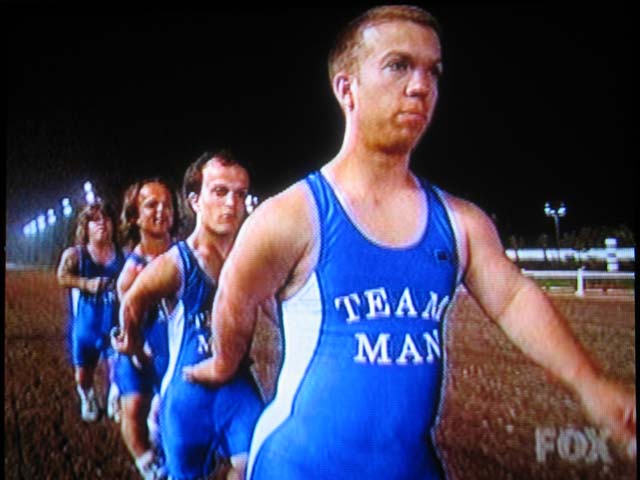 According the New York Times blog, which summarized the information from the Science journal, the chimpanzees outperformed the humans in causality tests and tied them in spatial skills. If you're looking for hope in mankind's future, the babies trounced the other species in social learning skills that involved popping open the top of a container to get food.
Now, I have always been supportive of inter-speical competitions. In high school, I placed bets on Fox's Man vs. Beast show that pinned some of mankind's most-gifted creatures against some of the world's fastest, hungriest and strongest animals. (It turns out that I put too much faith in humans. I just didn't think the bear liked hot dogs as much as Kobayashi.)
Posted by irobi at 03:36 PM | Comments (0)
September 06, 2007
When swinging a chicken over your head, treat it with dignity
With the high holidays upon us in about a week, Jews around the world are making final preparations to bring in the new year.
Some might be going to the market to get the freshest apples (honey crisp, obviously) or harvesting their honey (is that what you do with honey?).
Others might be going to wherever you go to buy a live chicken for the kaparot ceremony. During the ritual, which is normally performed between Rosh Hashanah and Yom Kippur, an individual swings the chicken above their head as a symbol of tranferring sins from the human to the animal. This tradition dates back to ancient times when the Jewish community would use a goat to bear the sins for the entire community (a scapegoat).
But according to a few rabbis, there is evidence that chickens have been mistreated in previous kaparot ceremonies (really?). The tradition has drawn the attention of animal rights groups in recent years, including PETA. But some members of the Orthodox community brush of PETA's efforts in this case or any other case, according to an article from The Forward.
"In general, I don't think that PETA is taken very seriously in the Orthodox community, or in any civilized society," said Rabbi Avi Shafran, spokesman for the ultra-Orthodox Agudath Israel of America. "But that doesn't mean that they won't on occasion bring up something that is worth being brought up."
Things got out of hand in Brooklyn last year when 700 chickens were found in an abandoned garage.
Some agree with PETA and movements within the Orthodox community to reform the practice. A new tradition of swinging money, instead of chickens is gaining momentum.
With this extended blurb, I have just scratched the surface of this issue and what the article offers.
Posted by irobi at 07:34 PM | Comments (0)
The Young and the Restless .... and the Jewish
I don't know how many of Mir Blogn's readers are big daytime soap fans.
I don't know if any of Mir Blogn's readers are big daytime soap fans.
In case you aren't, I think there is a plotline that you should be aware of.
Earlier this summer, Brad Carlton from The Young and The Restless revealed that he is Jewish and the son of a Shoah survivor. Apparently, this is far from normal in the show's setting of WASP-y Genoa City, according to The Forward.
Not only is Carlton a Jewish character, but many of the show's upcoming plots will also grapple with Jewish issues.
If you don't want me to ruin the plot stop reading now. Considering how I worded this cliffhanger, I think I have a future in writing soaps.
To repent for some of his actions in the past year, Carlton, who is played by Don Diamont, will attend Yom Kippur services.
Carlton has been a character on the show for 22 years, and, amazingly, his Jewish identity was never revealed until this summer. According to his wikipedia page (I would like to quote a more credible source, but I'm talking about soaps), Carlton's character has divorced five times, had one wife die, remarried another wife, had another marriage annulled and has been romantically involved with six other female characters on the show.
He might not have been married by a rabbi but when he wants repentance, he knows exactly where to go.
By the way, I'm not a big soaps fan, either.
Posted by irobi at 07:11 PM | Comments (0)