April 10, 2008
Watch me be funny
Three years of sending Shmooze e-mails and I have finally achieved the ultimate goal: hosting the end-of-the-year Hillel Gala (7 p.m. for the senior dinner and 8 p.m. for everybody else).
Yeah, running the world's greatest kugel-cooking competition is awesome. And having Ralph Williams speak to us about Jews in Shakespeare was outstanding. Even raising thousands of dollars for Relay for Life was pretty good. But that was all a means to the end: hosting the gala.
I finally get my chance tomorrow. Aside from an appearance as Ching (the Chinese passenger with three lines in Anything Goes [the director told me not to sing during the chorus scenes and excused me from some of the dances]), this will be my first performance. A side note: everybody told me I stole the show.
But this will allow me to present original material, not something Cole Porter wrote in the 1930s. I've written the material (with my co-host Amira), and I plan on laughing my ass off the entire time. You should plan on doing the same. People who have heard the jokes have tried to describe them at "shmooze e-mail-esque" but they've been too busy laughing to get those words out.
On the subject of conflicts with season premiers of television shows and Frozen Four hockey games, I have a possible solution. I will DVR the game at my house. People can come back to my house after the gala to watch the game. I also learned I can record two shows at once. We could watch The Office and/or Scrubs at intermission (unless you have already made plans to watch it at 517 Elm).
Posted by irobi at 12:53 AM | Comments (0)
Shmooze E-mail Banter
Yesterday, I sent out an e-mail declaring my dominance in the "cook anything you want as long as it contains zucchini and is pareve or milchig" challenge. While the suspect voting strategy might have declared the event a draw between Chudnow's zucchini pizza and my zucchini hash, I declared victory.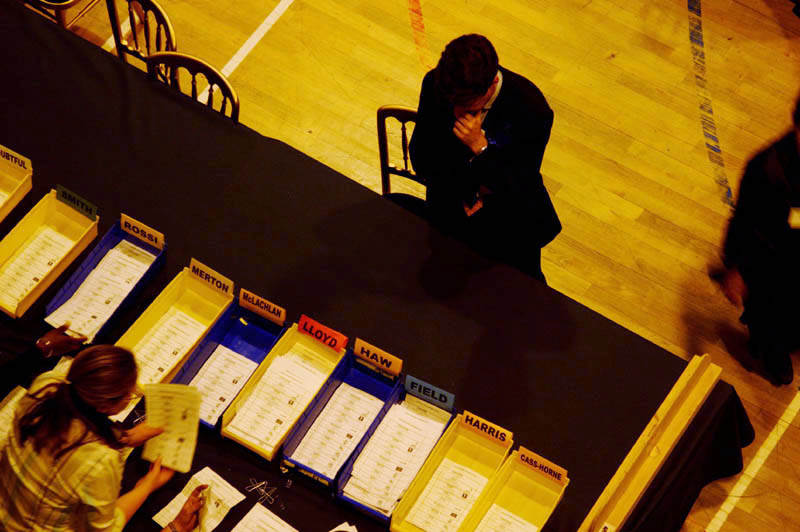 And I know suspect voting strategies when I see them. I'm the guy who claims to be a co-champion of the first kugel-off even though the total number of toothpicks probably totaled more than triple the attendance. I feel like I have enough experience in illegitimate elections I could be an election observer in Russia (Boom! Take that, Putin).
Either way, why overdramatic and slightly sarcastic championship-claiming e-mail was not well received by all members of the Shmooze community — namely the "co-champions" Chudnow. Below is the e-mail I sent out to the Shmooze Club followed by the response e-mail he sent out. Noah chipped it at the end with his take.
Shmoozenikim,
Two things to tell you:
1. Thanks for making Relay for Life so great
2. I am co-hosting the Hillel Gala Thursday. Come!
1. Relay recap
I apologize for the lack of a comprehensive Relay for Life recap. I have been too busy celebrating my championship in the "cook anything you want as long as it contains zucchini and is pareve or milchig" challenge.
Man, was that glorious? It was the first time we switched from a toothpick voting system into an applause-a-meter system. There might have been some confusion about how many people you can scream for and how the meter actually works, but it was pretty clear that I won.
But there was more to the Relay for Life event than me legitimately winning my first Shmooze cooking championship. I want to thank our team captain, Rachel. She did a great job making this year's Shmooze Relay for Life so memorable.
Just as Rachel did in her e-mail, I would like to thank everyone involved with making it such a success. I could got through this name by name but I wonder if you really want to read that.
There will be pictures up on the Shmooze blog from Relay for Life. So please go there and check it out.
2. Thursday night is the end-of-year Hillel Gala. I am co-hosting.
If you enjoy reading the Shmooze e-mails I have sent over the last few years, then you'll probably enjoy my shtick. So, please come to the Gala. For seniors, there is a dinner starting at 7 p.m. Everybody else should come at 8 p.m. (oh, you'll get more e-mails about this)
If you are worried about missing the Frozen Four hockey game because of the gala, fear not. I will arrange for a DVR to record the beginning of the game (starts at 9 p.m.). We can then proceed from the gala to the TV and watch the game. We should be able to catch up to real time, so you're evening plans won't be delayed.
Eh... shmooze,
-Ian
Dearest Fellow Shmoozers,
I would like to clear up any misconception which might exist about the relay cookoff. While I personally believe that Ian's hash was far superior to my gourmet pizza, if one were to trust in the flawless "applause-o-meter," then the results clearly show a tie. I wish I could ignore this awful truth, but Ian, it was not a clear win.
Your co-winner of the shmooze semi-annual zucchini cookoff,
-David Chudnow
I don't want to get in the middle of this heated cookoff debate. However I am very worried about missing the most important television event this Thursday night has to offer whilst I attend the gala. It's not the Frozen 4, but rather, the glorious return of Scrubs at 9:30. Can DVR arrangements be made for this also? I'm kinda losing my mind.
-Noah
Posted by irobi at 12:23 AM | Comments (0)
October 19, 2006
Get my stamp!
With midterm season, parents weekend, and the World Series upon us, I know that everybody is pretty busy these days. However, it is a proven fact that participating in Shmooze-approved events lowers stress and improves your grades (How can you deny science?). I wanted to direct your attention to a few things happening around campus that have received the stamp of approval. In the future, if you know of an event that deserves Shmooze approval, let me know so that I can put it in the e-mail.
Shvitzes
These weekly Shmooze staples will go on as normal. The women will convene in the CCRB women's fitness locker room tomorrow afternoon at 5, and the men will meet today at 6:30ish in the men's fitness locker room (Unfortunately, I won't be able to attend today but, as I have learned, no single person is bigger than the sauna).
MACfest
Don't want to hear instruments? Want to hear the best A Capella Michigan has to offer? Come to the 6th annual MACfest on Saturday night at Rackham Auditorium from 8-11. Tickets are $10.
Lecture by Professor Zvi Gitelman
"Mass Murder, Memorials, and Music: Babi Yar and its Politics." Sunday afternoon at 2 p.m. in Rackham Auditorium. This lecture is presented as part of the Shostakovich Centennial Festival, and is co-sponsored with the University Musical Society.
Ralph Williams is talking. Listen.
Professor Williams will deliver a lecture about Shakespeare, entitled "The Great Globe Itself." It will be Monday night at 7p.m. in Rackham Auditorium.
Shmooze Movie Classics Series: The Frisco Kid
We have been throwing around the idea of a Shmooze movie series since the club's inception. There is no better movie to kick off the series than this classic about a rabbi in the Old West. Clear your calendars for Thursday November 2 at 8 p.m. Stay tuned for more details.
Ivri Lider Concert
Leading Israeli recording artist Ivri Lider will perform at the Blind Pig November 5 at 8 p.m. University A Capella group Amazin' Blue will open for him. You might remember him from such Israeli movie film soundtracks as Walk on Water and Yossi & Jagger. Tickets are available at the Union Ticket Office for $7. Tell your friends.
Posted by irobi at 05:40 PM | Comments (0)
September 20, 2006
New Years Resolution: Better Titles
First off, I would like to wish everybody a shana tova u'metukah, a happy and sweet new year. With Rosh Hashanah taking up the entire weekend, the Shmooze "stamp of approval" will be taking a little yontof break. But, let's just say that Shmooze has a lot up its sleeve this fall.
Shmooze+S'mores = Sh'morze Fest 5767—The Shmooze Club will be having a "bonfire" next Thursday night @ 8:30. Due to fire regulations, the fire won't be big as the ones you may be used to at summer camp, but that won't take away from the good time. Things to look forward to: ample shmooze time, Deb on the guitar (or anybody else who wants to), camp stories, kosher marshmallows, the story behind finding kosher marshmallows at this time of year, Ian's sej (pita maker/barbecue pit), the story behind Ian's sej, and, as with any Shmooze event, plenty of other food and excitement. We are down to two possible locations, check here or your e-mail for an update on where this tremendous event will be held.
Shvitzes: M-Shvitz and Yentaz—Each week, two groups of Shmoozers (one male and one female) convene in the "shvitz" (dry sauna) of the CCRB fitness locker rooms. The men meets on Thursdays at 6:30, and the women meet on Fridays at 5 (if you want to know if they are meeting this week, e-mail fkresch@umich.edu). For the men, the dress code is whatever you feel most comfortable with (For random guys over 60, this means nothing. For Shmoozers, it typically involves boxers or a towel). Frayda, the coordinator of the Yentaz, says that for the ladies, "you've gotta show to know."
Shmooze and K-Grams—If anyone is interested in participating with K-Grams, a student group that organizes volunteering activities at local/regional elementary schools, via Shmooze, please let me know ASAP.
16th Annual Raoul Wallenberg Lecture—Every fall, the University honors a person who embodies the traits of Raoul Wallenberg, a Michigan alum who helped to save tens of thousands of Hungarian Jews during the Shoah. Having him as an alum is the reason that I am most proud to be a Michigan student and I make a point to attend this event every year. The year Sister Luise Radlmeier will be honored for her relief work in Sudan. Past winners have included: Paul Rusesabagina (of Hotel Rwanda fame), Marcel Marceau, Elie Wiesel, and His Holiness Tenzin Gyatso, the Fourteenth Dalai Lama of Tibet. The ceremony will take place this year on October 5 at 7:30 at Rackham Auditorium.
Posted by irobi at 03:05 PM | Comments (0)