« Costa Rica | Main | Hawai'i »
February 17, 2007
China
Traditional Food and Shopping
The day after I got there, we were still waiting for some students to come, so Dr. Yen decided to take the students that had arrived out in downtown Beijing. He wanted us to get a taste of real Chinese food, so he took us to a traditional Beijing restaurant. Inside it looked dirty, compared to American standards. It looked run-down and dirty. It was a small place, with small round tables, but many chairs crowded around it. There was a fridge filled with bottled green tea and water, that we could take, or we could have a small cup of hot tea. Dr. Yen would not let us order. The first plate that they brought out was a large heap of green mush, that was tofu, but unlike any tofu that I have ever had in the US. Later, after some dumplings and beef, they brought out tripe. I had never had it before, but it is a specialty there. I did not particularly like it, and I was trying to smile the whole time I ate it.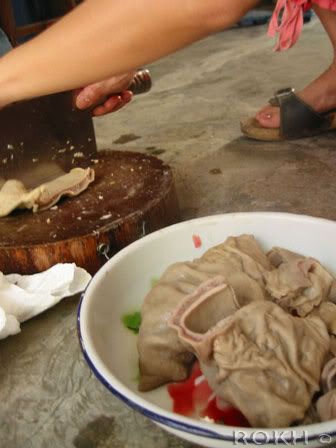 After lunch, we went to a large shopping center. It was full of knocked-off goods. The basement had booths and booths of fake designer sneakers and purses, along with other accessories. The thing was that each booth had the same thing. Everyone was trying to sell the same knocked-off thing. The other three floors had clothes, traditional Chinese goods, paintings, jewelry, and anything else that you could imagine.
The sales men and women would approach me and name a high price, and then look at me, and say "I give you better price because you're a pretty girl." I would try to bargain, but it was hard at first because I didn't know how low I could go, and they would say that they couldn't lower the price because they had to support their family. This made me feel bad for them, but also, later realize that they knew exactly what to say to make me feel for them, and pay for a higher price. Needless to say, I got ripped off after I spoke with some of the Chinese students at BSU.
Posted by cdesimon at February 17, 2007 07:47 PM