February 27, 2007
Hawai'i
June 27, 1999 - Kilauea Hike Day
Today we visited
Hawai'i Volcanoes National Park
. This is why I had come to Hawai'i: to see active volcanoes and erupting lava. After a quick stop at the Visitor Center, we began our
hike
hike through Kilauea Crater.
The crater floor consisted of very sharp lava rocks and my feet actually got hot. One guys shoes actually started to melt! We passed a cinder cone and spatter cone (which are different types of volcanoes).
After we hiked, we had lunch and ventured inside a lava tube. A lava tube is typically a "pipe system" underground for a volcano through which lava usually flow to the ocean. This particular lava tube was inactive and turned into a lighted walkway.
With the guidance of a park ranger, we went in a closed off area of the lava tube that was pitch black. You couldn't see your own hand in front of your face!
After the lava tube, we went to another lava field to look for the world's lightest rock, reticulite. I didn't find any.
A girl fell and cut herself while walking through the lava field and was rushed to the hospital for stitches.
Back at the University, we had dinner and learned an ancient stand up hula. We also made crafts including a tshirt, a sketch on a cloth, memo pads, and could get temporary tattoos.
The day was amazing but I was disappointed that I did not get to see running lava or a volcano erupt. It is very rare that tourists actually get to see it, but I will eventually one day.
Posted by scheemo at 01:51 PM
February 25, 2007
China
Touring BSU
The next morning we got up and had out enormous breakfast, this time with the whole group. We met with Dr. Monts and Dr. Yen to have breakfast, but we were a little late. Our plans had changed from the itnerary. In the morning we met with the Vice President of BSU. We walked to the office in the rain. The said that rain was very lucky. We walked into the administration building which was all white marble, and we walked into the office- a huge room with boxy black leather chairs and dark wood, and a large table in between. The chairs were in front of a large cloth picture of a scene in China, and framed with two large China pots filled with plants. The Vice President was a tall Chinese man, almost the same size as Dr. Monts. They met each other, and were served tea, that they never touched. Dr. Yen was amazing- he was the translator the entire time. They greeted each other, said that they hoped to set up a relationship between the two universities. It seemed a little superficial. They exchanged gifts, smiled, gave us pins and business cards, and that was it.
They showed us a video in the room after the administration left. It described BSU, which is the #1 sports university in China. In Athens 2004 it turned out 7 or 8 gold medalists, in wrestling, weightlifting, and other sports. I didn't realize how impressive the University was, judging by its small size, compared to the giant University of Michigan.
Check out
Beijing Sport University
!
Posted by cdesimon at 07:30 PM
February 23, 2007
Costa Rica
Work Break!
Today, Friday June 1, 2006, was our day off after 10 long days of work on
la finca
(the farm). We traveled in a van for about 45 minutes toward the Pacific cost. We then hopped on a river boat for about an hour.
The boat brought us through canals and into a bay area. We stopped by a rock and snorkeled for a while. It was really beautiful and colorful. We even found an octopus hiding in the rocks. After a couple of hours snorkeling we made our way to Tortuga Island.
The beach on Tortuga Island is one of the few white sand beaches in Costa Rica. Most of the other beaches have black sand. It was beautiful, warm and relaxing. We played in the water, climbed a palm tree, played beach soccer and laid in the waves. It was the perfect day off. It also gave my friends and I a chance to get rid of our farmers tans. While we were on the island we saw a caged Macaw that was used as a store front attraction. Our leader, Rodolfo,made sure to call the police at the end of the day to help free the Macaw because it is illegal to hold them as pets in Costa Rica.
The last stop of the day was the
Island Prison of San Lucas
(now a wild life reserve). Our tour guide said that when the prison was running it was comparable to Alcatraz. The deserted island and old prison buildings had a very creepy feel to them. The prison was set up of a few large buildings that would hold about 150 prisoners at a time. There were no separate cells for each prisoner; they were all clumped into one room. The murderers were with the thieves and the men were with the women; it didn't matter.
In one a the prisoner buildings was a famous painting of a life-size women. The painting is not famous because of what it is, the painting is famous because of what it is made out of, blood!
Finally it was time to leave the creepy prison and go home. It was a great free-day.
Posted by kmquinn at 05:16 PM
February 20, 2007
Hawai'i
June 26, 1999 - Hilo Day
Today we visited
Hilo
. Downtown, we went to the
Pacific Tsunami Meseum
and learned what causes a tsunami, as well as, the devastating 1946 and 1960 tsunamis that struck Hawai'i.
Afterwards, we went shopping at gift stores, surf stores and the
Hilo Farmers Market
.
We had lunch in a park and were told traditional Hawai'ian folk tales and legends. Then we went sightseeing at
Rainbow Falls
and the
Boiling Pots
. The boiling pots are named so because when it rains, it appears like they are boiling over into the next "pot".
Rainbow Falls
Boiling Pots and Pe'epe'e Falls
After the tour, we visited
Borders
to hear
Jesse Rivera
play Hawai'ian music.
The evening concluded by attending the O-Bon Festival, a Japanese festival to honor the dead, in Honomu. Obon literally means "lantern festival." We were given a tour of a Buddhist temple and participated in a traditional Japanese dance.
Posted by scheemo at 01:49 AM
February 17, 2007
China
Traditional Food and Shopping
The day after I got there, we were still waiting for some students to come, so Dr. Yen decided to take the students that had arrived out in downtown Beijing. He wanted us to get a taste of real Chinese food, so he took us to a traditional Beijing restaurant. Inside it looked dirty, compared to American standards. It looked run-down and dirty. It was a small place, with small round tables, but many chairs crowded around it. There was a fridge filled with bottled green tea and water, that we could take, or we could have a small cup of hot tea. Dr. Yen would not let us order. The first plate that they brought out was a large heap of green mush, that was tofu, but unlike any tofu that I have ever had in the US. Later, after some dumplings and beef, they brought out tripe. I had never had it before, but it is a specialty there. I did not particularly like it, and I was trying to smile the whole time I ate it.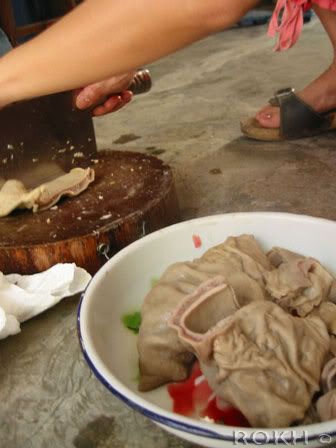 After lunch, we went to a large shopping center. It was full of knocked-off goods. The basement had booths and booths of fake designer sneakers and purses, along with other accessories. The thing was that each booth had the same thing. Everyone was trying to sell the same knocked-off thing. The other three floors had clothes, traditional Chinese goods, paintings, jewelry, and anything else that you could imagine.
The sales men and women would approach me and name a high price, and then look at me, and say "I give you better price because you're a pretty girl." I would try to bargain, but it was hard at first because I didn't know how low I could go, and they would say that they couldn't lower the price because they had to support their family. This made me feel bad for them, but also, later realize that they knew exactly what to say to make me feel for them, and pay for a higher price. Needless to say, I got ripped off after I spoke with some of the Chinese students at BSU.
Posted by cdesimon at 07:47 PM
February 16, 2007
Costa Rica
Working Hard
We were woken up bright and early by the rooster that lived right outside our window. After making our way out of the mosquito nets, we headed to the farm to start our day. Our days were routine...
5:30am Wakeup calls
6:00am Feed the birds then head out to the field
7:30am Breakfast (Rice, Beans, Eggs, and Coffee every day)
8:00am Field Clearing
9:00am Clean the Macaw's cages and change the water
10:30am Juice Break
11:00am Field clearing
12:00pm Lunch (Rice, Beans, and some sort of meat)
12:30pm Siesta
3:00pm Feed the birds
3:30pm Coffee Break
4:00pm Field Clearing (if it was not raining, which it did often)
5:30pm Work for the day is done
6:00pm Dinner (rice, beans and meat)
6:30pm Shower rotations started, people wrote in their journals, played cards, read, etc…
Every morning of the two weeks we spent at the farm we had the same breakfast; eggs, white rice, black beans and coffee. The only variation was in the type of eggs we got. Lunch and Dinner were about the same; white rice, black beans, meat, and juice. For these two meals the variation came with the meat.
The first day was the worst. Being from Michigan, I was not used to the sun being so intense. As the week went on, we began to adjust to the heat and sun. However, every night, after a day of hoeing and raking the grass and bushes, we were all exhausted! Most afternoons it rained because we were in Costa Rica during their "winter." That means it was the rainy season. The afternoon rains gave us a nice break in the day. But, unlike Michigan rains, the rain did not cool off the air.
The farm owner was Rodolfo. He did everything and anything to keep up the farm. My three friends and I became very good friends with Rodolfo. Rodolfo helped us improve our spanish speaking skills and we helped him improve his english skills. He even let us hold one of the Macaws!
Most of the rainy afternoons were spent playing cards with Rodolfo and drinking coffee. There is nothing like Costa Rican coffee! We also made trips into the village during our
siesta
. We would get ice cream and soft drinks to help us cool off in the middle of the day.
At the end of the day, between dinner time and shower time, we usually had group discussions. Our leader taught us about the culture and other important aspects of Costa Rica. I learned that the most important environmental issue in Costa Rica is
deforestation
. Also, Costa Rica's primary sources of revenue are coffee and bananas.
After a long 10 days of clearing the field, feeding the Macaws, cleaning the cages and a few birds trying to attack my friend, we were allowed a much needed day off.
Posted by kmquinn at 11:55 PM
February 15, 2007
Hawai'i
June 25, 1999 - Marine Day
The weather was overcast (yes, Hawai'i has clouds too) but extremely hot and humid. Today we visited a marine biologist and learned about some of the fish and other sea-creatures that live near Hawai'i. There are tons of
tropical sea creatures
native to Hawai'i and found no where else in the world. Also, there are dangerous animals with poisonous bards, such as sea urchins. Although they rarely cause death when treated properly, they scared me since we encountered them later.
After lunch we were given the opportunity we had all come to Hawai'i for:
THE BEACHES!!!
The waves were larger than what I had ever seen before, but not as large as the "surfer" waves everyone recognizes as characteristic of Hawai'i.
At
James Kealoha Park
, a snorkeling instructor gave us lessons on how to snorkel (it's really not complicated at all). We snorkeled in a tide pool, which is where rocks and lava have extended into the ocean forming a protective cove for marine life to flourish in.
We had to wear tshirts while snorkeling because the sun was too hot and our backs were exposed on the surface. There were tons of colorful fish, but the sea urchins scared the living daylights out of me.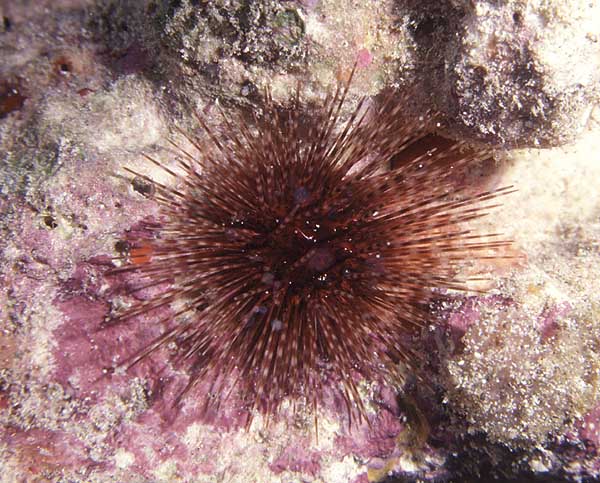 We also found a sea cucumber and got to hold it.
The day was very eventful, but the trip had only begun!
Posted by scheemo at 01:08 AM
February 11, 2007
China
This past May, I interned in Beijing and Tianjin, China in order to explore the health and sports management field and the impact of the 2008 Summer Olympics that are coming to Beijing. It was through the UM program,
GIEU
.
On May 6, I had to catch my flight early in the morning, and I really didn't know the other students that I was flying with. I flew with three other students, along with my site leader, Dr. Yen. We had a 6 or 7-hour layover in Newark, and then spent 15 hours on a plane to Beijing. When we arrived in China, we were greeted by a little Chinese man, who was very cheerful and because of that, we affectionately named him Mr. Charisma. We had to take the elevator down to the parking lot, where there was alittle van waiting for us. Everyone in my group was able to fit into the elevator, except for Mr. Charisma and I. In China, when people fit into any space, it means that they are literally on top of the person next to them. There is no room to move at all. This was a common trend throughout the entire trip.
The language barrier was pretty intimidating at first. In the elevator Mr. Charisma kept trying to ask me simple questions, like how my flight was, and if I was excited to be in China, and I kept answering his questions. Although he could ask me questions, I don't think he understood much because he just kept looking, smiling, and nodding at me with a blank face. The ride to Beijing Sport University was about 45 minutes in a tiny van. We saw lots of bikes and tiny cars. We also passed a huge count down sign to the 2008 Olympics, which was exciting.
We finally arrived at the University, and were greeted by a giant statue of Mao at the front of the University.
We then settled into the dorms, which were very nice. Since there was a 12 hour time difference, we all went to sleep right after we got in our dorms.
Posted by cdesimon at 03:38 PM
February 09, 2007
Costa Rica
The Trip Begins
This past summer I joined the
International Student Volunteers
on a volunteer/exploration trip for a month in Costa Rica.
Me and three friends went to Costa Rica with 80 other student volunteers from universities throughout the United States. After a very long trip, about nine hours, we all arrived in
San Jose, Costa Rica
. Once we gathered our luggage, we climbed into a travel bus and headed for
Heredia
.
Heredia
was our base city; when we arrived in Costa Rica we stayed there, when we re-grouped after two weeks we stayed there, and when we were getting ready to leave we stayed there.
After cleaning ourselves up, we headed out to gather mosquito nets and work boots. Once we had everything we needed for our volunteer project, we headed to dinner. Ironically we ended up eating at a little Chinese place right next to our hotel; so much for introducing ourselves to the Costa Rican culture.
The next morning we headed out to our project. Me and 11 other students loaded into a van and headed toward the Provence of
Puntarenas
. We were assigned to a Macaw farm for the first two volunteer weeks of our trip. For two weeks we were to work each day at the farm in order to aid towards the survival of the
Scarlet Macaws
in Costa Rica. The Macaw farm was located in the very small village of
Aranjuez
. It was about an hour off the Pacific coast. The town had a population of less than 500 people. It consisted of a Church, two markets, a school, and a soccer field. After a bumpy ride down long dirt roads we finally arrived at the farm and the small yellow house that would be our home for the next two weeks.
The Scarlet Macaws,
las lapas
in spanish, are endangered in Costa Rica. The farm we were about to spend two weeks at was home to many of the Macaws left in Costa Rica. The Macaws could fly free, but they always came back to the farm; where the food is.
Posted by kmquinn at 10:23 PM
February 08, 2007
Hawai'i
During the summer of 1999, I traveled to Hawai'i with
People to People
on the trip of a lifetime.
June 24, 1999
The flight, originating from
Cleveland Hopkins International Airport
, flew to Houston, Texas lasting two hours. After a several hour layover, we continued on Continental Airlines to
Honolulu International Airport
on O'ahu. The flight lasted eight and a half hours (much of which were spent sleeping)! We transfered yet again to a
Hawaiian Airlines
flight to
Hilo International Airport
, which lasted another hour. Finally arriving at our destination, we were greeted by locals with fresh flower leis.
The total amount of time spent flying, waiting and driving to our destination was approximately
fourteen to fifteen hours
. This consumed an entire day and everyone was exhausted.
We stayed in the dorms of the
University of Hawai'i at Hilo
. Each dorm was two doubles with a conjoined bathroom. After such a long day, everyone just unpacked, ate, socialized and went to bed eager to start our adventure the next day. Although the realization that I was in Hawai'i kept me awake for some hours into the night, my exhaustion got the best of me.
Posted by scheemo at 12:42 AM
February 07, 2007
Topic Announcement
We are blogging about past trips we have been on along with interesting facts about these places. We have each chosen our most memorable trip to discuss. We will include links and pictures about these places to describe our experiences. Enjoy reading our blog!
Posted by cdesimon at 03:59 PM
Welcome!
Christina De Simone
Kristin Quinn
Mike Schiemann
Section 004
Posted by cdesimon at 03:55 PM