« Topic Announcement | Main | Variety - Team 1, Greek Week 2007 »
February 08, 2007
Alpha Delta Pi---First. Finest. Forever.
***Alpha Delta Pi History***
Alpha Delta Pi sorority was founded on May 15, 1851 at Wesleyan College and was the
first
secret society for women. Originally named Alpha Delta Phi, which was found later to be a men's fraternity in northern Iowa, Alpha Delta Pi prides itself in selecting only the
finest
women for its annual recruitment. Alpha Delta Pi is founded on the principles of scholarship, leadership, service, and sisterhood. Alpha Delta Pi sorority is a community and legacy that will live and grow
forever
.
***Symbols of Sisterhood***
Badge
This is the badge that is worn by all initiated members of Alpha Delta Pi. Along with the badge comes an understanding of proper badge etiquette and pride.
Mascot
The mascot of Alpha Delta Pi is a lion who is nicknamed Alphie.
Official Colors
Alpha Delta Pi's colors are azure blue and white. The azure blue symbolizes friendship while white symbolizes sincerity and truth. These are the points upon which Alpha Delta Pi was founded.
Official Flower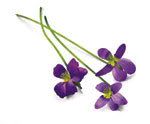 The official flower is the Woodland Violet which grows wild and is not available for purchase so is often substituted by the African Violet.
Motto

Creed of Alpha Delta Pi
The creed of Alpha Delta Pi demonstrates several of the beliefs and values of Alpha Delta and Pi and its members. Here is our creed:

I believe in Alpha Delta Pi. I believe that my sorority is more than a ritual or symbol; that it is a way of life.I believe that the principles developed by our founders in 1851 are enduring attributes, exemplifying the highest ideas of Christian Womanhood. I believe that our motto, "We Live For Each Other", expresses the true spirit of fraternity; and that by living this motto my life will be enriched by true friendships and by unselfish service to mankind. I believe that the privilege of membership in Alpha Delta Pi brings the responisbility to do my best in whatever I undertake, always remembering that leadership requires confidencetempered with humility and courage blended with confidence. I believe that I must strive to become a well-balanced person by following the dictates of the four points symbolized by our diamond-shaped badge: first, strengthening my own character and personality; second, watching my attitudes toward my fellow-beings; third, recognizing the value of high educational standards; and fourth,developing faith and loyalty. I believe that these four guide-posts, guarded by the stars and friendly clasped hands in the Adelphean bonds of fellowship, will lead me to achieve a rich and useful life.

***All of this information and more can be found on our national website AlphaDeltaPi.org!
Posted by rlbrewer at February 8, 2007 11:51 AM
Comments
Login
to leave a comment.
Create
a new account.