« January 2007 | Main | March 2007 »
February 20, 2007
New ADPi Recruitment Plans Coming Together
After attending the District Leadership Conference this past weekend, our final plans for recruitment are coming together. Recruitment takes the enthusiasm, spirit, and energy of the chapter as a whole. The recruitment team consists of the Recruitment Vice President, Formal Recruitment Chair, Philanthropy Chair, Public Relations Chair and the Alumnae Relations Chair. Each member of the chapter belongs to a member of the executive board's team. Find out which team you are a part of!
The themes for recruitment parties have changed slightly from last year, but are not yet finalized, as they must first be approved by Panhel. The final plans are due in mid-March, and when they are finalized, all chapter members will be informed of the details. We have an amazing new song and theme ideas, and with the help of the foundation from previous years, the recruitment team hopes to make this year's recruitment the best ever! FUNshops for recruitment will begin the Monday after everyone returns from Spring Break, when we will be holding a needs assessment workshop, which is mandatory for all recently initiated delta members. This will help us decide on what attributes the ideal member of Alpha Delta Pi should have.
Next year during recruitment, we will be expecting much more senior involvement than has been received in the past. As was said earlier, it takes the entire chapter to make recruitment successful. Seniors will be assisting the recruitment team in holding workshops, training younger members on conversation skills, bump groups, and also to help with practices. All practices and party sets will be mandatory for all members, unless previously excused. Attendance policies will be enforced equally for all members, regardless of senority.
The recruitment team would also like to remind everyone to wear their letters every Wednesday. If you need more ADPi gear click here! It is neccessary for ADPi to have its name become well known on campus. Older members at UofM will have influence over the freshman that go through formal recruitment, and sophomores go through recruitment as well. Please always remember to act in a manner representative of what Alpha Delta Pi stands for. Be respectful, classy, and also take pride your personal appearance.

Posted by ckaitlyn at 11:41 AM | Comments (0)
District Leadership Conference
On Friday, February 16, the Beta Eta Chapter of Alpha Delta Pi held a formal dinner for all Beta Eta officers, advisors, district leaders, and a few alumni. Our sisters looked professional in the best pin attire, and the dining room filled with ADPi members of all ages. Newly initiated delta members served each table three courses: salad and rolls, a chicken entree, and a rich chocolate cake dessert with strawberries. Overall, formal dinner was a relaxing (and delicious) way to spend time with the VIP's of Alpha Delta Pi before the big weekend of our annual District Leadership Conference.
After dinner, the Executive Committee met with advisors for three hours to discuss lease issues, weekly announcements, philanthropy, recruitment ideas, and standards procedures. When the meeting was finally over, we quickly packed our bags and left for the Eagle Crest Marriott hotel in Ypsilanti, Michigan - where the District Leadership Conference activities would begin.
Twelve members attended the conference, including all eight members of the executive board in addition to philanthropy, scholarship, formal recruitment, and new member coordinator. Moreover, there were many other Alpha Delta Pi chapters at the Marriott. Girls traveled from as far as Nebraska and Canada. On Saturday morning, meetings began at nine, but as early as eight am, girls were already running up and down the halls screaming out ADPi cheers. The large conference room filled with sorority girls singing, "I've got all these sisters who rock my world," and other songs alike. I thought I was at a cheerleading convention.
Despite the spirit, District Leadership Conference was actually a serious opportunity to learn about the specifics of being an officer. I learned so much about my position that I was not aware of before attending the conference, and I think the other eleven attendees feel the same. We were in meetings from nine in the morning until ten at night on Saturday, only to start again at eight Sunday morning. We were all exhausted, stressed out from midterms, and sick of screaming sorority girls, but I can honestly say that the conference was benefitial. We all got a better sense of our responsibilities and the roles of our fellow officers. I believe our Executive board is closer now and more willing to communicate and work together as a board and with other officers.
And for your pleasure, we had to come up with a logo/slogan for our chapter, and this is what we created:
"We strive high... A-D-Pi...you know this... DIAMONDS!!!"
(There is also a very nice poster illustrating this slogan, and I strongly suggest you ask one of the officers if you can see it.)
Posted by shillaik at 10:14 AM | Comments (0)
Social Fun
ATTENTION LADIES...this is what you have all been waiting to hear about!!!
We have finally announced our location for our next Date Party. This will be at the local Cavern Club and will take place on Thursday, March 8th. Our social chair, Casey, has been working hard in order to organize an outstanding date party event. This date party will be a My-Tie as well. For those of you who do not know what a My-Tie is it is a great opportunity for you to "set-up" your fellow sisters. The object of My-Tie is for a fellow sister to pick out a date for you and ask them for their tie, literally. She will give you the tie and tell you when and where to meet your date before or will have your date meet you at the house. Your date may not necessarily know if he is going with you so he will be looking for his tie on one of our lovely ADPis!
We are also planning on making tie-shaped cookies to give our dates. This is a great way for all of us to do something together as well. At the Cavern Club there will be Kareoke and also lots of the latest music so that we can all have a great time. So get your checks made our to ADPi for thirteen dollars and get them to Casey ASAP!
So to summarize:
My-Tie Date Party
Thursday, March 8th
Cavern Club
9:15pm-be at the house
Next line of business: FORMAL!!!
Although we do not have all the details yet, start getting excited for this year's formal which will be Friday, March 30th. Our formal will be in the Grand Ballroom at the Four Point Sheraton in Ann Arbor. To check it go here: ADPi Formal!
Stay tuned for more info and as always...if you have any questions just ask!
<>love
Posted by rlbrewer at 12:30 AM | Comments (0)
February 16, 2007
ADPi Girls at Work!!!
Between school and extracurricular activities there is often little time for much else. However some of our beautiful ladies can also be found at their workplaces.
You can find them hard at work in these great positions and places on campus:
-Outback Steakhouse
-Pizza House
-Starbucks
-Lifegaurd
-Study Group Leader
-Trauma Burn Intensive Care Unit at U of M hospital
-Campus Information Centers
-University Union Arts and Programs
-Tourguides for the University
-Ruthven Natural History Museum
-Research Assistants (Internal Medicine and Genetics)
-Magill and Rumsey, P.C. law firm
-The Necto Nightclub
-Physics Department Office Assistant
-LS&A Dean's Office
-Touchdown's Cafe
-Border's
-Tio's
-Office of Academic Multicultural Initiatives
and many, many more!!!
I just feel it is important for all of you to see how diverse our sisters are. You could be walking down practically any street and be able to find one of them working at a resturant, office, or night club. It is amazing to have these girls as references also when looking for a job.
I know personally how nice it is to have a surprise visit while working. So if you are ever in the mood for a burrito, latte, or would like a tour of campus or museum stop and see one of our lovely ladies. They would love to see you!
Posted by rlbrewer at 02:04 AM | Comments (0)
February 15, 2007
Fun Stuff Coming Up!!!
Here is a quick update on things taking place within our house and outside as well. We should all be eager to support our sisters!!!
THIS WEEK:
Thursday, Feb. 15
-Greek Week Team Mixer with Pi Kappa Alpha and Delta Upsilon
@ PIKE @ 10pm
Friday, Feb. 16
-Formal Dinner
@ Alpha Delta Pi @ 5:30pm
***This is an honor to be hosting this dinner for several district leaders of our Alpha Delta Pi community. Just a reminder this dinner is FORMAL attire!
Saturday, Feb. 17
-Dance Marathon Charity Ball
***Also girls who are not yet involved in Dance Marathon...sign up to morale!!! It is a great, fun way to support your sisters and we earn points for Greek Week!
FOR MORE INFO VISIT UMDM.ORG!
EVENTS TO LOOK FORWARD TO:
Friday, March 16
-Harmonettes Concert, a female a cappella group
@8pm @ The Michigan League
***The theme is Shamrockappella
Thursday, March 29
-Dance Mix 2007
***Indigo Dance Team will be performing.
LOOK FORWARD TO THESE AS WELL:
March 24-25
Dance Marathon
April 14-15 Relay for Life

***Please don't forget to let me know of anything that you might be involved in on campus that has any upcoming events. Feel free to email me at any time rlbrewer@umich.edu

Posted by rlbrewer at 02:19 AM | Comments (0)
February 13, 2007
ADPi Intramural Field Hockey Team
This year Alpha Delta Pi created its first intramural field hockey team. The team consisted of both old and new players. Creaters of the team were Laura and Kaitlyn, who recruited other members of the house to make a full team. Lisa, Kelly, and Maureen were all experienced players from high school. Last year both Kaitlyn and Maureen played on the same intramural team. New players, Caitlin and Alyssa also made valuabale contributions to the team. It was fun for all the former high school rivals to unite together and play on the same team. It was difficult to have a team with so few players, as the game is very tiring, but the team held strong and played every game the best they could. At times there were no substitutes for the team, and sometimes they were even shorthanded.
There were six teams total playing in this intramural sport, and surprisingly, our team was the only team that was not co-ed. Typically field hockey is thought of as a female sport, but actually field hockey is popular for both men and women around the world. It is one of the most popular sports in the world, and is very popular in countries such as Pakistan, India, The Netherlands, and South Africa. You can learn more about the rules of the game and the sport at the USA Field Hockey Official Site.
Unfortunately, the ADPi team did not have a very successful season, but it was fun nonetheless. Caitlin, an unexperienced player, stepped up and played goalie for the team. The team named Alyssa as the most improved player for the team because she had never played before and scored goals for the team on her first day.
ADPi's next intramural team will most likely be broomball, but our athletic chair will allow any team to be created if there is enough interest from the house. If you have a sport you are intersted in and want to put a team together, let the house know! You can find out what IM sports are avaliable and when registration deadlines are at http://www.recsports.umich.edu/intramurals/
Posted by ckaitlyn at 11:43 AM | Comments (0)
ADPi Traveling Leadership Consultant
On Tuesday, February 6, the Alpha Delta Pi Traveling Leadership Consultant visited our Beta Eta chapter to rank our house as a whole and provide advice for each individual officer. Originally from San Diego, California, Jackie travels across the country to visit national ADPi houses and offer her extensive knowledge and guidance.
Throughout the week, officers interviewed with Jackie to discuss the chapter's strengths and weaknesses. I spoke with her for about an hour and walked out of the meeting feeling completely overwhelmed. As VP Finance, I was not aware of many tasks for which I am responsible. Apparently, I am required to update the officer budgets by entering expense/reimbursement forms in Quickbooks; moreover, I am supposed to print off these revised budgets and hand them to each officer. With a large chapter such as ours, this is a tedious task. Additionally, I failed to follow a few COB rules. These rules include specifications of standards procedures for dues collections, charging for date parties, and certain aspects of the budget.
Despite these negative comments, Jackie was extremely helpful. She made sure to point out our strongpoints and provide positive advice for the future. I hope every other officer got just as much out of her visit as I did. I think we all learned at least one thing: We need to know our bylaws and Chapter Operations Book like the back of our hands.
On Friday, February 16, Jackie will visit our house once more, as she will be attending the formal dinner. This weekend, many of our ADPi Beta Eta officers will be traveling to Ypsilant to attend the annual District Leadership Conference.
Posted by shillaik at 10:50 AM | Comments (1)
February 08, 2007
Women Leading Women Conference
On Wednesday, February 7, 2007, the University of Michigan Panhellenic Association held its annual Women Leading Women Conference. Attendees included the Executive Committee members and additional officers of each Panhellenic sorority on campus. Specifically, Alpha Delta Pi brought ten members: Our president Ellen, Director of Standards Kaitlin, VP Finance Kelly, Director of Social Enrichment Casey, Member Education Vice President Freya , Scholarship Chair Jessica, Philanthropy Chair Jessica, Formal Recruitment Chair Kaitlyn, New Member Coordinator Kelley, and Public Relations Chair Andrea. Rebecca, as MEVP of the Panhellenic council facilitated the event.
The goal of this workshop was to inform chapter leaders on how to be more influential within the sorority houses and throughout campus. Keynote speakers addressed leadership tactics, job skills, and relationships among different houses. Additionally, each officer joined a group with members of other chapters to discuss issues, solutions, and job responsibilities. The Alpha Delta Pi Traveling Leadership Consultant also spoke about the many different sorority creeds and the important ties between houses on campus. Finally, each group discussed a "case study" related to specific problems associated with the group's position. A spokesperson relayed the information, concerns, and solutions with a short presentation to the entire conference. A reception followed the workshop with fruit, cheese, and cookies.
Overall, the Women Leading Women Conference was valuable, and I would like to share some of the main points:
1. Leadership tips: Have respect for others, show compassion, provide positive feedback, never say no - say "instead..." and create a plan of action, remain calm under stress, be an attentive listener, be willing to take risks, challenge yourself, ask for help when needed, and stand up for yourself.
2. Campus involvement: Look to other houses for support and help with issues, support other houses' philanthropy projects, collaborate, remember that friendly competition never hurts, do not stereotype, and always show respect.
3. Advisors: Appreciate your advisors, let them know you are grateful, do not embarrass your advisors with your actions, and respect their time and other commitments.
4. Solving house issues: Analyze the situation, prioritize concerns, provide a plan of action, follow through with the plan, set goals for the future, and follow up.
For more information about the University of Michigan Panhellenic Association, please visit the official website. The Association is a great resource for you!
Posted by shillaik at 06:31 PM | Comments (1)
Semi Formal
Alpha Delta Pi's annual Semi Formal was held on January 18th at the Club Bleu in Detroit, Michigan. With a DJ, dancing, dates, and drinks (for those of age) it was truly a night to remember. This was the first date party planned by our newly appointed social chair, Casey, and it turned out to be a huge success. With about 270 guests in attendance, it was one of the largest date parties ADPi has ever had. Everyone was well behaved, cooperative, and all those helping to run the event helped make it enjoyable for everyone.
Semi Formal was the first date party of the semester, and the first formal one for the newly initiated delta members. Date parties are always a fun way to have all the pledge classes together at one time, which is rare. Although usually held in the Fall semester, the change of date was not a problem and the number of women in attendance was actually higher than usual.
Club Bleu is located in the Entertainment district in Detroit, Michigan on Woodward Avenue. This club is a popular venue for fashion shows, movie premiers such as 8Mile, and Sports Illustrated events. The club will be celebrating its 6th year anniversary the weekend of February 16th. It hosts both DJs and live performances. Click here to visit their website and learn more.
If anyone has any stories to share please make a comment on this blog!
Posted by ckaitlyn at 05:40 PM | Comments (0)
Variety - Team 1, Greek Week 2007
Variety is an annual dance competition that occurs during Greek Week. Greek Week is actually over a week of daily competitions between the thirteen greek teams involved. Teams consist of one sorority and from one to three fraternities. The Variety show falls on the last day of Greek Week, or for this year, March 27, 2007. It is the final competition and chance for our team to take home the title of Greek Week Champions 2007.
This year, Alpha Delta Pi is paired with Pi Kappa Alpha and Delta Upsilon. We are "team 1" and we will be number 1 without a doubt. Variety already amazes me. The guys help with every aspect, including choreography, song picks, and costume design. The Variety theme is "Remember the Name," and all of our songs reflect big names in the hip hop industry. The final song picks are "Remember the Name" by Fort Minor, "Gimme That" by Chris Brown, "Cry Me a River" by Justin Timberlake, "Yeah" by Usher, and "Icebox" by Omarion. Visit MTV.com to watch all of the videos! The songs make the audience want to stand up and start dancing with us. Our team is going to love it!
In addition to having great songs and a hard-working, talented team, practice is going so smoothly. We know two out of the five songs, and we still have two months to learn the next three and perfect the entire dance. We are already far ahead of many teams who are just now holding tryouts. I will keep you updated on our progress, and mark your calendars for March 27. You do not want to miss variety. Go team 1!

Posted by shillaik at 12:36 PM | Comments (1)
Alpha Delta Pi---First. Finest. Forever.
***Alpha Delta Pi History***
Alpha Delta Pi sorority was founded on May 15, 1851 at Wesleyan College and was the
first
secret society for women. Originally named Alpha Delta Phi, which was found later to be a men's fraternity in northern Iowa, Alpha Delta Pi prides itself in selecting only the
finest
women for its annual recruitment. Alpha Delta Pi is founded on the principles of scholarship, leadership, service, and sisterhood. Alpha Delta Pi sorority is a community and legacy that will live and grow
forever
.
***Symbols of Sisterhood***
Badge
This is the badge that is worn by all initiated members of Alpha Delta Pi. Along with the badge comes an understanding of proper badge etiquette and pride.
Mascot
The mascot of Alpha Delta Pi is a lion who is nicknamed Alphie.
Official Colors
Alpha Delta Pi's colors are azure blue and white. The azure blue symbolizes friendship while white symbolizes sincerity and truth. These are the points upon which Alpha Delta Pi was founded.
Official Flower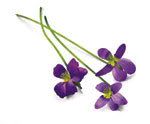 The official flower is the Woodland Violet which grows wild and is not available for purchase so is often substituted by the African Violet.
Motto

Creed of Alpha Delta Pi
The creed of Alpha Delta Pi demonstrates several of the beliefs and values of Alpha Delta and Pi and its members. Here is our creed:

I believe in Alpha Delta Pi. I believe that my sorority is more than a ritual or symbol; that it is a way of life.I believe that the principles developed by our founders in 1851 are enduring attributes, exemplifying the highest ideas of Christian Womanhood. I believe that our motto, "We Live For Each Other", expresses the true spirit of fraternity; and that by living this motto my life will be enriched by true friendships and by unselfish service to mankind. I believe that the privilege of membership in Alpha Delta Pi brings the responisbility to do my best in whatever I undertake, always remembering that leadership requires confidencetempered with humility and courage blended with confidence. I believe that I must strive to become a well-balanced person by following the dictates of the four points symbolized by our diamond-shaped badge: first, strengthening my own character and personality; second, watching my attitudes toward my fellow-beings; third, recognizing the value of high educational standards; and fourth,developing faith and loyalty. I believe that these four guide-posts, guarded by the stars and friendly clasped hands in the Adelphean bonds of fellowship, will lead me to achieve a rich and useful life.

***All of this information and more can be found on our national website AlphaDeltaPi.org!
Posted by rlbrewer at 11:51 AM | Comments (0)
February 06, 2007
Topic Announcement

Welcome to the unofficial blog of the Beta Eta chapter of Alpha Delta Pi sorority. In order to improve communication between the members of our house, we are using the topical blog assignment to create an interactive site available to all of our sisters. We hope this will serve as an online calendar of events as well as an evaluation of past events. Additionally, we will discuss the history, philanthropy, and campus involvement of Alpha Delta Pi.
Please feel free to comment on our site about what topics you would like to see discussed and add any questions or concerns you may have.
Diamond love from your sisters,
Rebecca Brewer
Kelly Shillair
Kaitlyn Connelly
Posted by ckaitlyn at 06:34 PM | Comments (0) | TrackBack
February 05, 2007
Welcome!
Rebecca Brewer - Section 004
Kelly Shillair - Section 001
Kaitlyn Connelly - Section 003
Topical Blog Assignment - "Alpha Delta Pi"

Posted by shillaik at 06:26 PM | Comments (0)
February 02, 2007
Chapter 12
Body goes here
---
Headings are cool!
---
Posted by ckaitlyn at 04:01 PM | Comments (0)
Chapter 9
This Is Section One
---
Click Here to Go to Section 2!
This Is Section Two
---
Click Here to Go to Section 3!
This Is Section Three
---
Click Here to Go to Section 1!
This page Copyright © Little Joe's Pages & davesite.com.
Back to The Tutorial!
Posted by ckaitlyn at 03:53 PM
Chapter 8
Hey I'm Yellow Text... Change my color!
Hey I'm Purple Change My Color!
This page Copyright © Little Joe's Pages & davesite.com.
Posted by ckaitlyn at 03:41 PM | Comments (0)
Chapter 7
Body goes here
---
Headings are cool!
---
pencils
pens
erasers
paper
glue
Posted by ckaitlyn at 03:31 PM | Comments (0)
Chapter 6
This page Copyright © Little Joe's Pages & davesite.com.
Posted by ckaitlyn at 03:26 PM | Comments (0)
Chapter 5
Body goes here
---
Headings are cool!
div is also a cool tag!
This link should be red if you haven't visited davesite.com/ and green if you have.
Posted by ckaitlyn at 03:24 PM | Comments (0)
Chapter 4
Body goes here
---
Headings are cool!
I can use text links... Visit Dave's Site!
---
and Image Links...
Posted by ckaitlyn at 03:21 PM | Comments (0)