« February 2007 | Main | April 2007 »
March 31, 2007
Formal
Last Friday evening on March 30th ADPi held its annual spring formal. Formal was certainly another wonderful ADPi date party to remember. Held at the Four Points Sheraton hotel, ADPis and their dates enjoyed dinner, dancing, and a short bus ride...The event was held in the grand ballroom, which was beautifully decorated. This is the largest ballroom in Ann Arbor, and can be rented out for other events as well. Simply visit this link.
This was the last date party of the year (except for seniors) and was free to all members. Girls showed up in beautiful spring dresses and the weather was the perfect temperature to wear them. To many, it felt like prom again because it was so fancy and the weather was nearly perfect.
The seniors have another date party and their annual "bells" to complete at the end of this week. This is the time for seniors to bond at Michigan for a few final weeks with their sisters. Don't worry though because ADPi sisterhood lasts a lifetime!
Posted by ckaitlyn at 11:58 PM | Comments (0)
March 29, 2007
Get Ready for Room Preferences!
Ok ladies this is just a quick little reminder for all of you that will be living in the house next year. Room prefs are coming up and that means three things:
1)Find a roommate(s)
2)Pick out a room
3)Get your PRIORITY in order
The best thing for you to do as far as priority is to list what you have done this semester to gain priority. This will help you to estimate how much you will have. This is very important because the room you get to choose is based on your level of prioirity in comparison to the other ladies in the house. OFFICERS: if you promised priority for any activities you need to get your lists of girls that received priority to Christina Micelli ASAP!
So here's the dates you need to know:
APRIL 9th: Room sign-ups
APRIL 16th: Actual Room-prefs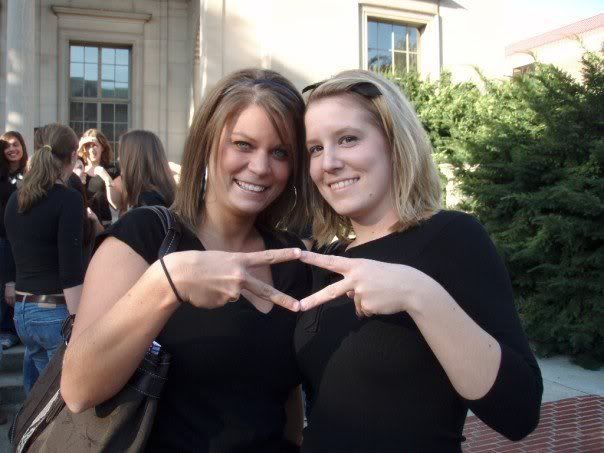 So get excited to live-in for the first time or to do it all over again! If you need a reason to: because I'll be there!
P.S. I LOVE ALL OF MY DIAMOND SISTERS!!! SO PROUD TO BE AN ADPi!!! TEAM ONE LOVE!!!!
<>still can't believe how great yesterday was! TEAM WON!!
Posted by rlbrewer at 12:29 AM | Comments (0)
Greek Week 2007 Champions - Team 1!
The results are in:
The 2007 Greek Week Champions are none other than Team 1, consisting of our own Beta Eta Chapter of Alpha Delta Pi, Pi Kappa Alpha, and Delta Upsilon. This year's win marks the fifth ADPi Greek Week victory out of the last seven years. Needless to say, our girls deserved this title. For the last week and a half, we have worked so hard at promoting participation, cheering on our team members, putting 100% efforts into the competitions, and demonstrating that we are the best team out there.
Greek Week ended on Tuesday, March 27, 2007, with the Sing and Variety performances. Sing is an annual competition in which eighteen members of each team perform a short acapella montage complete with costumes and choreography. This year, Team 1 sang to the theme of "8th Grade's Back" with song choices like "All My Life," and "Baby Got Back." Costumes consisted of khakis with dress shirts for the guys and pleated skirts with white blouses for the girls. Couples danced at arm's length and disc-jockeyed with imaginary turntables. Their voices were phenomenal, and the Sing team placed second in the overall competition. Congratulations Sing!!
Variety is an annual dance competition between the thirteen Greek Week teams. Our variety team has been working on the performance since the end of January, with some weeks consisting of twelve hours of practice. This year's theme was "Remember The Name" and included hit songs from popular artists like Chris Brown, Usher, and Justin Timberlake. The Variety dancers incorporated hip hop, modern dance, and acrobatic flips into the performance. For costumes, girls wore baby-blue shirts with white sweatpants, and guys wore dark bluejeans with blue t-shirts, white gloves, and white hats. Due to a combination of impressive choreography, synchronization, flips, and stage presence, our Variety team received the third place trophy. Congratulations Variety!!
As a result of these two placings, on top of the multiple other top-place performances over the week, Team 1 beat our competition from Team 6 by a small margin of under 100 points. When the winner was announced from the stage of Hill Auditorium, our entire section jumped in the air and filled the auditorium with screams of happiness. The feeling was unreal. After, the team walked/ran over to the PIKE fraternity house on Washtenaw to celebrate together. It was an all-around amazing night.
TEAM WHAT?? TEAM ONE!!!!
To read a summary of the activities, fundraising details, and events completed during Greek Week 2007, please visit the G.U.T.S website.
As the new Champion, Alpha Delta Pi will receive a percentage of the proceeds raised by the Greek Week activities to donate to our national philanthropy, The Ronald McDonald House.
Posted by shillaik at 12:11 AM | Comments (0)
March 22, 2007
Dance-Off
Team What? Team One!!!
On this past Tuesday evening Team 1 finally stepped our game up and left with first place in the Dance-Off Competition that has held at The Necto on E. Liberty in downtown Ann Arbor.
Thanks to our amazing Variety Team Captains, Ms. Ashlynn McGill and Mr. Matt Gahman, we were able to be victorious. Ashlynn and Matt danced their way through rounds one and two first with a dance-off followed by a prepared routine. Round three consisted of only five teams that were chosen to advance. After watching the next five prepared routines our team anxiously awaited the results. An explosive burst of cheering from all of our team one supporters when they announced team one as the winners. It was great to see Ashlynn and Matt's faces and see the pride all of our members had for our team that night.
This is the TURNING POINT!!!
Besides a first place victory what does this mean? This is the turning point for team 1! Like Kelly had blogged about previously our interest in winning has seemed to disappear. Well Greek Week teams around campus, we're BACK and we're BACK WITH A VENGEANCE!!!
So ladies and gentlemen let's keep it up! Let's keep showing up in large numbers so that we can win the spirit points and not just the events!
Team One Love!!!
Posted by rlbrewer at 12:03 PM | Comments (0)
March 20, 2007
RESPECT
Greek Week is in full force, but unfortunately, many of the Beta Eta sisters are not. When we found out we were with Pike at the pairings party in January, the whole campus was talking about how Greek Week was OVER - Pike and ADPi had it in the bag. But now that Greek Week is actually here and events are taking place, our team is not showing up. We may have amazing partners and years of Greek Week experience, but girls, we cannot win unless we go to activities, participate, and make a full effort to do our best in EVERY event. This means signing up for State St. Day events, eating at Za's or NYPD, going to Journey of Dreams, watching Mr. Greek Week, cheering on Sing/Variety, swimming laps at Anchor Splash, and giving blood. All of the little things add up - we need your points!!
Furthermore, the girls that are participating need our support. Haley and Kaity have been sacrificing everything to plan our entire week, Jessica has put hours of her own time into Mr. Greek Week, and Ashlynn has been dancing until 3am every night this week for the dance-off and variety. Plus, the SING team and Variety teams have been practicing 3 days a week since February. This amount of work shows what Greek Week should mean to ADPi. Greek Week is about Charity, and the fundraisers will not work without our support. Other teams are raising the bar; where is team 1?
As the week progresses, the most important thing to remember is that this is not even close to being over. We can turn the rankings around in just a few events. Being a part of a team means acting like a team. We have to support our sisters and have respect for each other. Have respect for event coordinators, help out our greek week representatives, and despite the outcomes, maintain respect for the steering committee. Everyone has put SO much work into this week, and we need to remember that the entire point of Greek Week is Charity!
So in conclusion, we need to step it up. Go to the dance-off tonight, Journey of Dreams tomorrow, State St. Day on Friday, Anchor Splash on Sunday, Mr. Greek Week on Monday, and Sing/Variety on Tuesday. The end is a week away, and this is supposed to be the most exciting week of the year. Have fun with it, and remember what Alpha Delta Pi is all about - sisterhood, philanthropy, loyalty, and fun!
For Greek Week Rankings, visit Greek Week 2007: G.U.T.S.
Posted by shillaik at 11:19 AM | Comments (0)
Schedule for Greek Week: Week 2
Alright ladies, Greek week has officially begun so lets get out there to all the events and show our Team 1 Spirit!
Here are the events still to come:
19th - 22nd: Blood Drive (let's save some lives ladies!)
20th: Dance Contest at Necto at 9pm

21st: Journey of Dreams 7pm at Rackham Auditorium (This is mandatory! It determines our seating for Sing and Variety!)
23rd: State Street Day
Fooseball: 11am at Phi Psi
Obstable Course: 11am-12pm at Chi Psi
Volleyball: 11am-2pm at ADPhi
Tug of War: 12-3pm at Phi Psi
Food Eating Contest aka Scooper Bowl: 1-1:30pm at Sig Ep
Arm Wrestling: 2:30-4pm at ADPhi
Musical Chairs: 2:30-3pm at Sig Ep
Corn Hole: 3-5pm at Chi Psi
Mascot Challenge: 3pm
24th: AnchorSplash! 12:30-3pm at Canham Natatorium
24th: G Men Concert 8pm, MLB Aud 3
26th: Mr. Greek Week 7pm, Power Center (This is also mandatory, it is ADPi's event and it's for our philanthropy!)

27th: Sing and Variety 7pm, Hill Auditorium
*Remember, if you can't compete in an event, just show up and cheer for your sisters and earn spirit points! Don't forget to wear your team shirts (you know they're cute)
We'll be sure to keep you posted with the results from all of the events throughout the week so check back here for results!
You can also visit the Greek Week website for more information:
http://www.umich.edu/~greekwk/
Posted by ckaitlyn at 12:09 AM | Comments (0)
March 18, 2007
Getting Ready for Recruitment
So I know that this is extremely early to be preparing for but I am so excited for Recruitment next fall!!!
This Fall ADPi will helping out with gifts for Diamond Days so that each girl does not have to spend a lot of money out of their own pockets. ADPI will be purcahsing for each new Alpha a tchirt, cups, pens, scrapbooks, a picture frame, and a stuffed "Alphie" lion. You still may purchase other items for your littles if you would like. If so I suggest you check out the ADPi Gift Mart or ask Ashley Budd for help. Ashley is this year's Gift Mart chair.
Also just so that you guys can start getting excited...
Bid Day will be on Sunday, September 30th and this year for our bid day activities we will be going bowling and having ice cream sundaes.
Also for our chapter retreat, which will be October 5th, we will be going rock climbing. I am personally very excited for this!!
Our Member Education Team and Recruitment Team have been working really hard and spending a lot of time on making sure that next fall we will have the BEST recruitment possible. If you have any questions feel free to contact any of these teams members. Over the summer I hope that you all begin to get excited for Fall 2007 Recruitment!!!!
Posted by rlbrewer at 11:41 PM | Comments (0)
March 13, 2007
Sing!
Congratulations to everyone in the Sing competition! Go team 1! The final teams were announced on Sunday and we are in the finals!
Our Greek Week Team, consisting of ADPi, Pike, and DU are singing a flashback to 8th grade medley. This will feature songs by N*Sync, Backstreet Boys, Christina Aguilera, The Vengaboys, KC and JoJo and more!! It's going to feel like you are right back in that awkward 8th grade year again!
If you feel like reminiscing back to those songs that used to be your favorites, check out these sites:
Backstreet Boys
N*SYNC
The Vengaboys

Living in the house, you have probably heard them practicing and they sound great! If you haven't heard them, Sing and Variety will be held on March 27th! It is the last night of Greek Week and it is one amazing finale so be there!!
Posted by ckaitlyn at 12:14 PM | Comments (0)
"My Tie" at the Cavern Club
Last Thursday, ADPi had its second date party of the semester at the Cavern Club. This is also the second time that a date party has been held there this year. The first date party was held early in September, before we recruited a new pledge class. Thursday's theme was "my tie". The goal was to have a sister ask for your date's tie, and then when your date shows up, he sees you wearing his tie, and then he says, "hey that's my tie...you must be my date!" While most people simply asked their dates themselves, a lot of sisters still enjoyed the theme and wore their date's ties to the party.
Cavern club is conveniently located in Ann Arbor, so it is an easy date party to get to, however, as always it is against our risk management policy to come or go not on the ADPi buses. It is a uniquely decorated club, with a lot of seating areas, a bar, and a dance area. To learn more click here!
This was our last informal date party of the semester. Get ready for formal ladies, it is going to be held on March 30th!
Posted by ckaitlyn at 11:51 AM | Comments (0)
Body Image Speaker
On Monday March 12, 2007, Ellen Adamini, the Beta Eta Chapter president, cancelled the weekly chapter meeting and required all girls to attend a Body Image Speaker. The event was sponsored by the University of Michigan Panhellenic Association and held at Rackham Auditorium. The speaker was Leslie Goldman who is a health and medical writer for the American Medical Association. Leslie wrote the book The Locker Room Diaries which provides influential, often comical, descriptions of fitness center locker room conversations between women, along with great advice about how to feel great about your body - the way it is.
Leslie began her speech with a very personal story of her own body image issues which began at a young age. She always observed beautiful, skinny girls with big boobs and platinum blonde hair getting all of the attention from the guys. She felt she would never measure up, and one day while flipping through a magazine, she came across a picture of the gorgeous Cindy Crawford which listed her weight at 120 pounds. Leslie thought 120 was the magical number, and she began an extreme diet with intense hour-long runs every day. She lost 5 pounds in the first week, and the weight kept coming off until Leslie reached that magical number. But she didn't look like Cindy Crawford, she looked unhealthy and still felt fat. That was when her family finally told her she couldn't go back to college until she got help. With help from her family, friends, and anti-depression medicine, Leslie turned her life around. Now she wants to help other college girls with distorted body images gain a sense of confidence and happiness about their individual, unique, beautiful bodies.
Leslie told more stories of poor body image, including tales of three-year olds on diets, and girls with envious double d's wishing they had smaller boobs. It seems like no woman is ever completely happy with her body, and this is what Leslie wishes to fix. In the most interesting part of her speech, Leslie showed before and afters of digitally reconstructed modeling pictures. In the original photographs, the models are beautiful, skinny, and completely natural. But according to the modeling business, these models are not good enough for the American media. They need to be touched up. The photographs are digitally remastered, eliminating wrinkles, hiding freckles, changing hair and eye color, rotating belly buttons, carving out wastes and thighs, and basically changing the model into a whole other, unnatural person. What is so sad is that teenage girls worship these models, not knowing how unnatural they really are in the pictures. No wonder we can never measure up.
Leslie's speech was captivating and influential. She made me realize how horrible it is to cut yourself down for our bodily "flaws". Our differences make us who we are, and women have so much more going for them then having a perfect body - we have families, our intelligence, and our future. For once, women need to leave the scale behind and focus more on health and happiness.
For more information on health and body image please visit Body Image and Self Esteem.
Posted by shillaik at 10:43 AM | Comments (0)
March 08, 2007
Schedule for Greek Week: WEEK 1
Ok ladies it is just ONE week until the start of GREEK WEEK!!!
As Team#1 we MUST be #1!!!!
With our lovely partners, Pi Kappa Alpha and Delta Upsilion, we are going to have a blast in all of these exciting activities and competitions.
For our first week we need girls to participate in the events and more importantly girls to help cheer on our team players!!!

So here's the list of events:
March 14th
Banner Competition
We need some super artistic girls to make a banner for our house. If you are an artistic genius and want to work on this give Haily and Kaity an email at adpigreekweek@yahoo.com
March 15th
Greek Olympics
Today is the start of Greek Olympics with T-ball at 5pm at Burn's Park. Come to play or cheer on our team!

March 16th
Greek Olympics Day2
All of today's events will be held at Burn's Park!
10AM Dodgeball
11-12 Human Alphabet (We will need to make letters with our bodies)
12-1:30 B-ball shootout
12-2 11 Legged Race (This is a 3-legged race with 10 people)
1-2 Egg Toss
2-4 Crab soccer

Next week has even more exciting events coming up so stay tuned! I hope that everyone has a blast and contributes to what hopefully be a landslide victory for Team#1!!!
Don't forget:
Eat at NYPD and Za's for Greek Week points!
Also, donate cans and change for the can drive and penny wars! For penny wars all silver is positive and pennies are negative.
<>Greek Week love!
Posted by rlbrewer at 12:50 AM | Comments (0)
March 06, 2007
Alcohol Awareness Workshop
On Monday, March 5, 2007, Alpha Delta Pi held this semester's mandatory Alcohol Awareness Workshop. Run by the chapter Membership Education Vice President, Freya Motafram, the workshop was intended to inform our sisters of the effects of alcohol and give pointers on how to party safer.
Alcohol is the most widely used drug on the University of Michigan campus. It is also the most prevalent date rape drug. The parties are fun ways to socialize with other students throughout campus, but the consequences of misusing alcohol are devastating. Binge drinking can lead to unconsciousness, alcohol poisoning, and in the worst case, death. Please be responsible and use the following pointers to stay safe:
1. Take responsibility for your sisters. If someone you're with has had too much, don't be worried that she might get mad at you if you tell her to stop drinking. Always stick together, and look out for each other. If you leave the house together, come home together.
2. Pour your own drinks, and keep track of how many drinks you have had. A drink constitutes one shot, a small glass of wine, or a 12oz beer. Be aware that mixed drinks often contain up to three shots of alcohol. Most importantly, if you set your drink down, even if just for a second, get a new one. Don't give anyone the chance to slip something into your drink.
3. Signs of alcohol poisoning include lack of consciousness, slowed breathing, vomiting while unconscious, cold or clammy skin, and the inability to be woken up. If anybody you know is in this state, stay with them. Don't try to force them to eat, keep them on their side in the fetal position, and be aware of choking. And if you are unsure, call 911. Please do not be afraid of legal consequences. An MIP is much better than losing your friend.
4. In the state of Michigan, your body is a container. It is illegal to have anything in your system if you are under the age of 21. If 21, it is illegal to drive if your blood alcohol level is .08 or above. Never let your friend drive drunk, wander home alone, or make belligerent irrational decisions.
5. Keep your drinking below a level at which your rationale or inhibitions are greatly reduced. Unawareness of your actions may lead to regretful decisions, injury, or unsafe sexual encounters. Stay alert and aware of your surroundings, and overall, just be responsible. I can't stress this fact enough. It is ok to party, but be smart, and stay safe. Besides, nobody likes a sloppy drunk.
If you have any questions on how to control your drinking, or if you think you need to talk to somebody, Alpha Delta Pi has two Pulse leaders - Mandie Lupone and Jessica Barr - and a Sapac member - Allison Merideth. They are always willing to help.
Additionally, please visit thisAlcohol Awareness Pagefor more facts on alcohol usage and its effects on your body.
Posted by shillaik at 09:49 AM | Comments (0)
March 05, 2007
Needs Assessment
Tonight after chapter the annual Needs Assessment workshop was held. Although only the '06 pledge class attended, it is important that the entire chapter be aware of what was discussed at this workshop. Every member has attended this workshop before at some point, and has given their input, and so should realize its importance. The workshop helps determine the current status of the chapter. It is designed to help the chapter assess strengths and weaknesses and areas of challenge or potential growth. At the workshop we establish a guideline or roadmap for chapter development. It is also necessary to define what the ideal ADPi member should be, this way during recruitment, the whole chapter knows what qualities to look for in a potential new member.
These are the results:
Strengths Within Chapter:
• Down to earth
• Reliable
• "Chill" / Laid Back
• Balance between work/play
• Well dressed
• Classy
• Well mannered
• Outgoing
• Campus involvement
• Not all blonde/diverse
• Laid back
Areas for Improvement:
• Bid day
• More activities with frats and sororities
• Stronger academics
• Reputation on campus
• More activities while alpha members
Strenths in Other Chapters:
• Less cliquey
• More (better) reputation
• Close knit – bond more
• Stronger academics
• Outgoing, excited about house
• Seem uniform
• More activities, date parties
• Fraternity relations – more, branch out with sororities too
• Better bid day
Ideal ADPi member:
• Classy, well mannered
• social skills, fun
• Spirited
• Desire to be in house
• Down to earth
• Good academics, good grades
• Involved (on campus)
• Outgoing
• Friendly, cheerful
• Polite
Posted by ckaitlyn at 11:01 PM | Comments (0)
Spring Break 2007
On February 24, approximately 25 University of Michigan Alpha Delta Pi's all wearing flip flops gathered in the house living room with arms full of luggage. It was 3:30 AM, and everybody was heading for the airport with only one destination in mind: Acapulco for Spring Break 2007!
The plane took off around 7 that morning and touched ground in sunny Acapulco, Mexico around noon. Hundreds of Michigan Greek Life members stepped off the plane to be greeted by 90 degree weather and palm trees blowing in the breeze. After making it through customs and finding the way to the hotel (Playa Suites) girls ran up to the rooms, dumped the luggage, threw swim suits on, and ran back down to the pool. This was the start of one of the best weeks of their lives.
Each day, girls wandered down to the pool around 10 in the morning to eat a genuine Mexican breakfast and soak up the sun. They made friends with people from all different houses within the Michigan Greek Life in addition to Spring Breakers from Oakland and Sienna, New York. Girls could lay out on the beach, get massages, go jet skiing, go banana boating, rent out a yacht, jump off a 10m platform into the pool, go bungee jumping, swim in the pool, participate in friendly competitions, go shopping at the local Mexican markets, practice spanish, eat at the numerous local restaurants, play beach volleyball, or just relax.
During the night, girls usually took naps and then got ready for the many extravagant Acapulco night clubs. They usually left the room around 11 and would not return until 5 or 6 in the morning. The night clubs offered unbelievable performances, amazing views of the Acapulco bay, fireworks raining down the glass walls, and intense dance music. The energy was out of the roof every single night. At one particular club called Palladium a dancer completely painted in iridescent silver paint wearing an aztec costume with a giant feathered headdress came out every night around 4 AM. Strobe lights danced, and confetti fell down from the ceiling. The feeling the girls got while dancing and watching the performers in these clubs is indescribable.
With the day activities, gorgeous weather, warm ocean, pool, delicious food at the local restaurants, new friends, and night clubs, the fun times in Acapulco never ended. The girls returned on March 3 and will still be telling stories for weeks to come.
Acapulco was absolutely amazing, and it is recommended that if you didn't go this year, make the investment to go next year. You will have the time of your life.
~**Acapulco Spring Break 2007!!!**~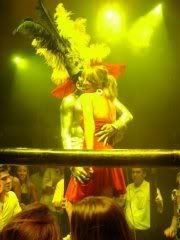 Posted by shillaik at 08:35 PM | Comments (0)