« New ADPi Recruitment Plans Coming Together | Main | Needs Assessment »
March 05, 2007
Spring Break 2007
On February 24, approximately 25 University of Michigan Alpha Delta Pi's all wearing flip flops gathered in the house living room with arms full of luggage. It was 3:30 AM, and everybody was heading for the airport with only one destination in mind: Acapulco for Spring Break 2007!
The plane took off around 7 that morning and touched ground in sunny Acapulco, Mexico around noon. Hundreds of Michigan Greek Life members stepped off the plane to be greeted by 90 degree weather and palm trees blowing in the breeze. After making it through customs and finding the way to the hotel (Playa Suites) girls ran up to the rooms, dumped the luggage, threw swim suits on, and ran back down to the pool. This was the start of one of the best weeks of their lives.
Each day, girls wandered down to the pool around 10 in the morning to eat a genuine Mexican breakfast and soak up the sun. They made friends with people from all different houses within the Michigan Greek Life in addition to Spring Breakers from Oakland and Sienna, New York. Girls could lay out on the beach, get massages, go jet skiing, go banana boating, rent out a yacht, jump off a 10m platform into the pool, go bungee jumping, swim in the pool, participate in friendly competitions, go shopping at the local Mexican markets, practice spanish, eat at the numerous local restaurants, play beach volleyball, or just relax.
During the night, girls usually took naps and then got ready for the many extravagant Acapulco night clubs. They usually left the room around 11 and would not return until 5 or 6 in the morning. The night clubs offered unbelievable performances, amazing views of the Acapulco bay, fireworks raining down the glass walls, and intense dance music. The energy was out of the roof every single night. At one particular club called Palladium a dancer completely painted in iridescent silver paint wearing an aztec costume with a giant feathered headdress came out every night around 4 AM. Strobe lights danced, and confetti fell down from the ceiling. The feeling the girls got while dancing and watching the performers in these clubs is indescribable.
With the day activities, gorgeous weather, warm ocean, pool, delicious food at the local restaurants, new friends, and night clubs, the fun times in Acapulco never ended. The girls returned on March 3 and will still be telling stories for weeks to come.
Acapulco was absolutely amazing, and it is recommended that if you didn't go this year, make the investment to go next year. You will have the time of your life.
~**Acapulco Spring Break 2007!!!**~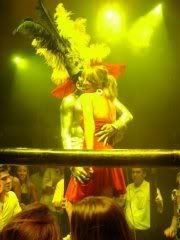 Posted by shillaik at March 5, 2007 08:35 PM
Comments
Login
to leave a comment.
Create
a new account.