April 13, 2007
Summary and Farewell
As the semester draws to a close and the Alpha Delta Pi sisters of Beta Eta Chapter start studying for finals, we realize it is almost time to move out of the house for the summer. ADPi activities at the house will be put on hold until fall semester, and therefore, so will our blog.
Throughout the semester, our blog has allowed us to keep readers informed about important topics and events regarding the members of our sorority, Alpha Delta Pi. As a blogging team, we were able to publish information about the ADPi history, Greek Week, date parties, intramurals, events in the Greek community, philanthropy projects, and results from workshops and meetings. Over time, the postings developed from a general introduction to our Sorority, including history and fun facts, to a detailed Calendar of Events, along with important updates and information regarding these events. As the blog progressed, it became more than just a list of facts - but rather a communicational resource between our team and the members of our house. After providing an impersonal introduction, we were eventually able to sincerely express our feelings about the sorority and stress the significance of certain topics or events.
By connecting our blog to the links saved on our delicious accounts, we allowed members to research additional information about Alpha Delta Pi and other related topics. This has been especially helpful regarding recruitment outfits and Greek Week, as members were able to visit shopping sites or frequently check the Greek Week standings posted on the official Greek Week web page. The links turned our blog site into an interactive informational media source for the Beta Eta members.
By writing information about ADPi, we not only conveyed information to our sisters, but we also learned many things about Alpha Delta Pi, which we were previously unaware of before participating in this assignment. The blogs about topics such as the rituals, history, and national facts taught us about the most important aspects of our sorority, outside of the social scene. We feel this blog can show other readers not as knowledgeable of the Greek System that houses are more than year-long parties; we are a group of people with the same interests committed to helping the University of Michigan community through philanthropy, support, and networking.
We want to thank you for reading our blog, and we hope that you found our postings informative and interesting. As a team and officers of the Beta Eta Chapter, we plan to continue this blog in the fall, as we feel it has become an important communicational aspect of our sorority.

Posted by ckaitlyn at 06:50 PM | Comments (0)
April 12, 2007
Rebecca's del.icio.us Experience
After this semester I have been introduced to one of the most useful and easy to use internet tools: Del.icio.us!!!

At first using delicious was very tidious to me because I did not realize how I could put it to use for myself. Then when assigned a project from Spanish class here at UofM I found how delicious became a part of my day to day online usage. While researching for my project I used delicious to tag sites that I later wanted to pull information from. This made meeting with my group extremely efficient and productive. I did not need to worry about bringing my computer to our meeting place because with delicious I can access my tagged websites from any computer with the internet.
Delicious has also made it easier for me to visit websites that I have difficulty remember their web address. All of the websites that I find on a wim I tag to delicious in case I want to visit them again. When researching and viewing sites that are suggested by other websites this proves to be especially helpful!
Everything I need is right there in delicious too!!! Being able to break things down into categories makes everything I need for example for my sorority, or for my LHC presentation all in one place!
I can honestly say that delicious has replaced my favorites folder on my we browser! This has made my experience using the internet not only easier but more enjoyable as a whole. I know that I will continue to use delicious a great deal in my future!
~Rebecca Brewer
Posted by rlbrewer at 11:25 PM | Comments (0)
Jewel Degree
History of the Jewel Degree
The Jewel Degree was established in 1915 as an alumnae degree to complete our Alpha Delta Pi ritual. It expresses the Alpha Delta Pi ideal of service to humanity. It is conferred upon graduating seniors or initiated members who have assumed an alumna status.
The Jewel Degree is a beautiful ceremony inspired by Henry Van Dyke's "The Story of the Other Wise Man" (1896), and was named in honor of Jewel Davis Scarborough, Alpha Chapter and founding member of Delta Chapter, who was Grand President at the time the ceremony was adopted. The ceremony was written by Mary Thayer Ashman, assisted by Doris Holmes Blake, both of Rho Chapter, and further refined by Georgina Hobson Hendricks of Alpha Beta Chapter.
Alumnae conferring the Jewel Degree are reminded that it is a ritual ceremony of Alpha Delta Pi, and it should be conducted with the same planning and reverent atmosphere as other ceremonies. In addition to the ritual aspect, it is encouraged that the event be used to educate seniors on alumnae membership and to recruit them for alumnae association membership.
Eligibility
Any graduated member of Alpha Delta Pi (in good standing) or member who has left school permanently (in good standing) may receive the Jewel Degree. Seniors may receive the degree just in advance of their graduation.
Chapter members are not knowledgeable about or informed of the secrets of the ceremony. Any questions regarding Jewel Degree or the specific paraphernalia needed should be directed to the Alumnae-Collegiate Relations Director or Executive Office.
If you are a graduating senior and are interested in receiving the jewel degree contact me, Rebecca Brewer at rlbrewer@umich.edu
Posted by rlbrewer at 09:00 PM | Comments (0)
Kaitlyn's Deli.cio.us Tagging Experience
My experiences with delicious this semester have been relatively helpful. Prior to this course, I had never heard of deli.ciou.us. I feel that this is a very useful tool that I will continue using in the future. I think the ability to access favorites from any computer anywhere is a very useful tool that I will continue to use in the future.
The majority of my tags related to my interests, IT, or sites related to my weekly blogs. It was interesting to notice others who had tagged the same website and search through some of their other delicious tags as well. I was able to find interesting sites about IT this way and others I would not have been able to find on my own.
Delicious has been an incredibly useful tool for my position as formal recruitment chair in Alpha Delta Pi. I have written several blogs about the recruitment plans for our chapter, and have been able to include links to websites where clothes should be purchased. It has been useful because while searching online for clothing and outfits members could potentially wear, I can tag all sites to delicious and easily search for them. I am also able to show them to other members of the recruitment team when I am not using my own computer which has saved a lot of time.
Additionally, rather than having to choose a folder to store a bookmark, I like that I can assign as many unique keywords as I would like in order to find the tag when I am searching again. It is convenient that I do not have to create and organize folders on my own, but rather delicious does this work for me.
The delicious experience has also made me search the internet more on a daily basis than I would have. It has made me discover many other interesting websites that I would not have explored otherwise. By checking popular tags and my friends' tags I have found new and interesting websites.
Posted by ckaitlyn at 08:59 PM | Comments (0)
April 11, 2007
Final Recruitment Themes!
After attending a meeting with the rush chairs from each house, our recruitment themes have been approved. This entry will tell you what you need to wear and where you can purchase the clothes!
First Set (Mixers) - September 16, 17 -
For this set the theme is ADPi Casino Queens. Wear one all black piece and one all black and white piece. A black and white dress is acceptable as well. The white in the outfit must be noticeable – pinstripe dress pants aren't exactly what we are looking for unless the stripes are thick. Wear stripes, flowers, polka dots, lace, anything! Make sure it is dressy, keep it classy. Keep in mind that it will probably be hot during mixers, especially with the house full and you being nervous, so you may not want to wear pants and a sweater. Wear black dress shoes- sandals or closed toe, but make sure they are comfortable. No flip flops. No tights or nylons. Fun black or white jewelry or simple silvery jewelry will make a great addition to your outfit!

Second Sets - September 19, 20 -
Second sets is a new theme this year called Summer of ADPi! For this set we will be wearing a solid pastel color t-shirt or tank top. The shirts will be ordered after each person selects a color to wear - and as a bonus, they are free!! As bottoms you should wear either pastel, stripe, or plaid colors that go well with the color top you selected. It would be best if they were seersucker style. These should be kept in pastel colors or white. You may choose to wear shorts, capris or bermuda shorts. For shoes wear flip flops that match your outfit well. You may wear sunglasses in your hair if you would like as well. There are several stores carrying these styles of shorts and capris right now:
J. Crew solid color shorts
J. Crew shorts and bermudas
American Eagle Shorts
American Eagle Capris
Old Navy Shorts and Capris
Pacific Sunwear Shorts
Abercrombie and Fitch Shorts and Capris
Hollister Shorts and Capris

Third Sets - September 25, 26 -
Wear a solid white dress. It can have minimal lace or design, but it must be all white, not cream or anything else. The dress should not be inappropriately short, nor should it fall far below the knee. It can be strapless, spaghetti, tube top, halter…anything you want. You will be given teal ribbon to tie around your dress somewhere, so keep this in mind while selecting a dress. Shop for this early! If you wait until the last minute to find a dress, and you can't find one, you won't be able to rush, the house will suffer, and you will be fined. Do not risk it, shop early, and don't return to school in the fall without one! (You need a white outfit for initiation anyway, this will be perfect!) You can also wear a white or teal headband if it is approved by the RVP or FRC. If you would like to wear your hair up, you must wear a teal ribbon. Wear white dress shoes they can be cute flats or lower heels, as long as they match appropriately with your dress. If you are wearing a short dress, you probably don't want to wear really high heels. Remember, you want to be comfortable and look classy! Wear diamonds (if you have them) or rhinestones. If you have real tiffany's jewelry, wear it!
There are some stores that have really great white dresses right now – so again, shop early:
Old Navy Dresses
Victoria's Secret Dresses
American Apparel Dresses

Preferences - September 28 -
This is the easiest set to find clothes for. Wear an all black cocktail dress. Keep it classy, keep it fancy, and look beautiful. Wear black shoes that match your dress well. Simple black or silver jewelry that goes well with your dress is perfect. You always need that "little black dress" in your wardrobe, so if you don't have one, don't feel bad about buying one because you will always wear it again. You could even wear it to formal or semi formal!
On a final note, please follow the directions for the outfits. You know what is appropriate and what is not. If your outfit is not approved by either the Recruitment Vice President or Formal Recruitment Chair, you will not be allowed to recruit that set. Don't let that happen! If you shop early you can wear your outfit all summer! Just remember not to wear your outfits once you return to school, as this may constitute a recruitment violation.
Posted by ckaitlyn at 12:39 AM | Comments (0)
April 10, 2007
Kelly's Deli.cio.us Tagging Experience
The Deli.cio.us Tagging Site is an interesting tool to use for saving and accessing my favorite websites from any location. Before BIT200, I had never heard of Deli.cio.us, and experimenting with tagging has provided me with internet search experience, along with a lifetime tool useful for any occasion, at home or work.
Over the semester, I was able to tag 150 sites. Starting the assignment, I never thought I would find that many interesting sites. Furthermore, over a third of those tags are related to technology. At the beginning of the semester, I knew very little about the topic, and searching through over 50 technology sites has greatly increased my knowledge of computer systems and business information technology.
The Deli.cio.us Site also came in handy when completing assignments for other classes. In my UC245 class, we are graded on take-home written midterms. After researching information at the library, I often saved research sites to my Deli.cio.us account from the library computer, making it easier to find the sites from my home computer. For this reason, 11 tags are tagged with "uc245" and relate to this University of Michigan class.
Many of my tags have a recognizable chronological order. For example, I searched sites related to the BIT class' weekly topic. The tags also reflect the events occurring in my life - in my classes and and my sorority. I tagged websites with supplemental information to my weekly blogs, all referring to my sorority Alpha Delta Pi. These websites are provided as html links in each blog entry. Out of the 18 sites tagged for ADPi, about half are included in my topical blog site.
Many of the tags also come from websites referred by other Deli.cio.us users. Although, I never followed a particular user in my network, I often looked through the "Today's Popular Tags" posted by many other users from throughout the Deli.cio.us network. These tags were incredibly interesting and often related to BIT class topics. I discovered sites I never would have found on my own.
Overall, Deli.cio.us is a great tool. I would recommend it to any internet user who wishes to access bookmarks from many different sites. It was surprisingly easy to use, and I learned so much information just from searching through the sites. This assignment was valuable to my topical blog assignment and to the BIT200 course as a whole.

Posted by shillaik at 12:14 PM | Comments (0)
PIKE Comedy Night
Tonight, April 10, 2007, Alpha Delta Pi's Greek Week partners of Pi Kappa Alpha are holding their annual PIKE Comedy Night for charity fundraising. The event has always been a big hit and helps the local fraternity raise philanthropy money. Comedy Night starts at 8:00 pm in the Michigan Theater, with doors opening at 7:30. Tickets are $15.00 and can be purchased at the door, from a PIKE brother, or online at the PIKE Comedy Night Website. CollegeHumor.com's Steve Hofstetter will provide the entertainment, along with touching speeches about the charity and cause. This year, 100% of the proceeds will be donated to the Gary Green Foundation, to help Gary Green walk again.
Gary Green is a former high school classmate of one of the PIKE brothers, James Heike. They grew up in Montclair and played football together. Heike came to the University of Michigan, and Green went off to the University of New Haven to play college football. Unfortunately, during his second game, Gary Green suffered a spinal cord injury, paralyzing him and causing the doctors to diagnose him as a quadriplegic. Since his injury, Green has regained some movement and can now even use his laptop to take online courses. Gary is determined, and he participates in grueling physical therapy sessions for hours each week. The local PIKE fraternity brothers were touched by Green's story and quickly agreed to donate to his cause. To learn more about Gary Green, please read this article.
Amazingly, our sisters at Alpha Delta Pi have shown almost as much interest as the PIKE brothers in this event. Maya Leeds, an Alpha 06, also grew up in Montclair and knew Gary Green. She was touched when she saw how much the girls cared about attending the Comedy Night. Thanks to support from Maya, and hard work from other girls in the house like Kaitlin and Lauren, Alpha Delta Pi purchased more tickets than any other sorority on campus. To show their appreciation, the PIKE brothers are throwing us a preparty before the event.
Tonight will be a great night to socialize with the PIKE brothers, watch some quality entertainment, and donate to a great cause.
Posted by shillaik at 11:24 AM | Comments (0)
April 04, 2007
Famous ADPis
Check out some of these amazing women that all share something in common with each and every one of us!
WE ARE ALL ALPHA DELTA PIs!!!
* Kate Capshaw (Alpha Gamma) - actress (Indiana Jones and the Temple of Doom) and wife of Steven Spielberg
* Deana Carter (Alpha Kappa) - singer
* Nancy Grace (Delta Theta) - CNN News
* Lauren Catuzzi Grandcolas (Delta) - author, passenger on United Airlines 93
* Neva Jane Langley (Gamma Gamma) - Miss America, 1953
* Karen Parfitt Hughes, (Alpha Zeta) - Under Secretary for Public Diplomacy and Public Affairs
* Danica McKellar (Alpha Chi) - actress; (The Wonder Years)
* Jessica Nelson North (Theta) - poet and author. Editor at Poetry
* Sandra Palmer (Gamma Upsilon) - Professional golfer
* Lu Parker (Zeta Sigma) - Miss USA 1994; KTLA-TV news correspondent
* Emily Procter (Delta Omicron) - actress; (CSI: Miami, The West Wing)
* Carol Shields (Phi) - author; winner of the Pulitzer Prize for Fiction, 1995
* Jean Smart (Alpha Theta) - actress; (Designing Women, 24)
* Cathy Deupree (Eta) - singer
* Judy Woodruff (Omicron) - news correspondent
For more Famous ADPis check out this website ADPi:Yes We're Simply That Famous!
Posted by rlbrewer at 09:03 PM | Comments (0)
April 03, 2007
Ronald McDonald House Charities


As mentioned in the previous Greek Week blog, Alpha Delta Pi -as Greek Week Champion 2007- has recently received a portion of the funds raised during the University of Michigan Greek Week competition to donate to the local Ann Arbor Ronald McDonald House. Ronald McDonald House Charities is a national charity committed to helping needy children. Because of its support and care for children, Alpha Delta Pi sorority has made Ronald McDonald House Charities our national philanthropy. Philanthropy is a main priority of this sorority, and I would like to tell you more aobut ADPi's national philanthropy.
Ronald McDonald House Charities consists of three programs: the Ronald McDonald House, the Ronald McDonald Family Room, and the Ronald McDonald Care Mobile. Ann Arbor is home to one Ronald McDonald House, which acts as a "home away from home" for families of ill children receiving treatment at the nearby University of Michigan hospital. Local college students volunteer at RMH to play with the children, help provide food, and take care of their needs. Just having these visitors can make the health issues that much easier to deal with. In addition to service programs, Ronald McDonald House Charities has donated $440 million in grants with the goal of making a positive impact on as many children as possible.
Ronald McDonald House Charities would not be able to have such a large impact on children without the help of donations. For this reason, Alpha Delta Pi continues to be an active supporter of the charity. This year, Beta Eta Chapter has donated $1,500.00 from the ice cream social, an additional undisclosed amount raised by Mr. Greek Week, and the proceeds received from Greek Week, which will hopefully amount to about $6,000.00. ADPi really makes a difference for this organization. Our sisters work hard for this great cause - congratulations girls, and keep it up!
Ronald McDonald House Charities recognizes our support, and recently at Mr. Greek Week, a representative from the local Ann Arbor House stood up on stage and spoke of how thankful the House is for our donations. We also received a Thank You letter in the mail from RMHC.
For more information on Ronald McDonald House Charities, please visit the RMHC website.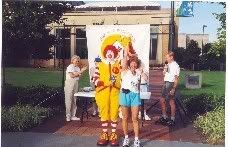 Posted by shillaik at 11:04 AM | Comments (0)