« Formal | Main | Famous ADPis »
April 03, 2007
Ronald McDonald House Charities


As mentioned in the previous Greek Week blog, Alpha Delta Pi -as Greek Week Champion 2007- has recently received a portion of the funds raised during the University of Michigan Greek Week competition to donate to the local Ann Arbor Ronald McDonald House. Ronald McDonald House Charities is a national charity committed to helping needy children. Because of its support and care for children, Alpha Delta Pi sorority has made Ronald McDonald House Charities our national philanthropy. Philanthropy is a main priority of this sorority, and I would like to tell you more aobut ADPi's national philanthropy.
Ronald McDonald House Charities consists of three programs: the Ronald McDonald House, the Ronald McDonald Family Room, and the Ronald McDonald Care Mobile. Ann Arbor is home to one Ronald McDonald House, which acts as a "home away from home" for families of ill children receiving treatment at the nearby University of Michigan hospital. Local college students volunteer at RMH to play with the children, help provide food, and take care of their needs. Just having these visitors can make the health issues that much easier to deal with. In addition to service programs, Ronald McDonald House Charities has donated $440 million in grants with the goal of making a positive impact on as many children as possible.
Ronald McDonald House Charities would not be able to have such a large impact on children without the help of donations. For this reason, Alpha Delta Pi continues to be an active supporter of the charity. This year, Beta Eta Chapter has donated $1,500.00 from the ice cream social, an additional undisclosed amount raised by Mr. Greek Week, and the proceeds received from Greek Week, which will hopefully amount to about $6,000.00. ADPi really makes a difference for this organization. Our sisters work hard for this great cause - congratulations girls, and keep it up!
Ronald McDonald House Charities recognizes our support, and recently at Mr. Greek Week, a representative from the local Ann Arbor House stood up on stage and spoke of how thankful the House is for our donations. We also received a Thank You letter in the mail from RMHC.
For more information on Ronald McDonald House Charities, please visit the RMHC website.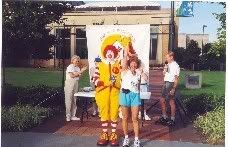 Posted by shillaik at April 3, 2007 11:04 AM
Comments
Login
to leave a comment.
Create
a new account.