April 13, 2007
Summary and Farewell
As the semester draws to a close and the Alpha Delta Pi sisters of Beta Eta Chapter start studying for finals, we realize it is almost time to move out of the house for the summer. ADPi activities at the house will be put on hold until fall semester, and therefore, so will our blog.
Throughout the semester, our blog has allowed us to keep readers informed about important topics and events regarding the members of our sorority, Alpha Delta Pi. As a blogging team, we were able to publish information about the ADPi history, Greek Week, date parties, intramurals, events in the Greek community, philanthropy projects, and results from workshops and meetings. Over time, the postings developed from a general introduction to our Sorority, including history and fun facts, to a detailed Calendar of Events, along with important updates and information regarding these events. As the blog progressed, it became more than just a list of facts - but rather a communicational resource between our team and the members of our house. After providing an impersonal introduction, we were eventually able to sincerely express our feelings about the sorority and stress the significance of certain topics or events.
By connecting our blog to the links saved on our delicious accounts, we allowed members to research additional information about Alpha Delta Pi and other related topics. This has been especially helpful regarding recruitment outfits and Greek Week, as members were able to visit shopping sites or frequently check the Greek Week standings posted on the official Greek Week web page. The links turned our blog site into an interactive informational media source for the Beta Eta members.
By writing information about ADPi, we not only conveyed information to our sisters, but we also learned many things about Alpha Delta Pi, which we were previously unaware of before participating in this assignment. The blogs about topics such as the rituals, history, and national facts taught us about the most important aspects of our sorority, outside of the social scene. We feel this blog can show other readers not as knowledgeable of the Greek System that houses are more than year-long parties; we are a group of people with the same interests committed to helping the University of Michigan community through philanthropy, support, and networking.
We want to thank you for reading our blog, and we hope that you found our postings informative and interesting. As a team and officers of the Beta Eta Chapter, we plan to continue this blog in the fall, as we feel it has become an important communicational aspect of our sorority.

Posted by ckaitlyn at 06:50 PM | Comments (0)
April 12, 2007
Rebecca's del.icio.us Experience
After this semester I have been introduced to one of the most useful and easy to use internet tools: Del.icio.us!!!

At first using delicious was very tidious to me because I did not realize how I could put it to use for myself. Then when assigned a project from Spanish class here at UofM I found how delicious became a part of my day to day online usage. While researching for my project I used delicious to tag sites that I later wanted to pull information from. This made meeting with my group extremely efficient and productive. I did not need to worry about bringing my computer to our meeting place because with delicious I can access my tagged websites from any computer with the internet.
Delicious has also made it easier for me to visit websites that I have difficulty remember their web address. All of the websites that I find on a wim I tag to delicious in case I want to visit them again. When researching and viewing sites that are suggested by other websites this proves to be especially helpful!
Everything I need is right there in delicious too!!! Being able to break things down into categories makes everything I need for example for my sorority, or for my LHC presentation all in one place!
I can honestly say that delicious has replaced my favorites folder on my we browser! This has made my experience using the internet not only easier but more enjoyable as a whole. I know that I will continue to use delicious a great deal in my future!
~Rebecca Brewer
Posted by rlbrewer at 11:25 PM | Comments (0)
Jewel Degree
History of the Jewel Degree
The Jewel Degree was established in 1915 as an alumnae degree to complete our Alpha Delta Pi ritual. It expresses the Alpha Delta Pi ideal of service to humanity. It is conferred upon graduating seniors or initiated members who have assumed an alumna status.
The Jewel Degree is a beautiful ceremony inspired by Henry Van Dyke's "The Story of the Other Wise Man" (1896), and was named in honor of Jewel Davis Scarborough, Alpha Chapter and founding member of Delta Chapter, who was Grand President at the time the ceremony was adopted. The ceremony was written by Mary Thayer Ashman, assisted by Doris Holmes Blake, both of Rho Chapter, and further refined by Georgina Hobson Hendricks of Alpha Beta Chapter.
Alumnae conferring the Jewel Degree are reminded that it is a ritual ceremony of Alpha Delta Pi, and it should be conducted with the same planning and reverent atmosphere as other ceremonies. In addition to the ritual aspect, it is encouraged that the event be used to educate seniors on alumnae membership and to recruit them for alumnae association membership.
Eligibility
Any graduated member of Alpha Delta Pi (in good standing) or member who has left school permanently (in good standing) may receive the Jewel Degree. Seniors may receive the degree just in advance of their graduation.
Chapter members are not knowledgeable about or informed of the secrets of the ceremony. Any questions regarding Jewel Degree or the specific paraphernalia needed should be directed to the Alumnae-Collegiate Relations Director or Executive Office.
If you are a graduating senior and are interested in receiving the jewel degree contact me, Rebecca Brewer at rlbrewer@umich.edu
Posted by rlbrewer at 09:00 PM | Comments (0)
Kaitlyn's Deli.cio.us Tagging Experience
My experiences with delicious this semester have been relatively helpful. Prior to this course, I had never heard of deli.ciou.us. I feel that this is a very useful tool that I will continue using in the future. I think the ability to access favorites from any computer anywhere is a very useful tool that I will continue to use in the future.
The majority of my tags related to my interests, IT, or sites related to my weekly blogs. It was interesting to notice others who had tagged the same website and search through some of their other delicious tags as well. I was able to find interesting sites about IT this way and others I would not have been able to find on my own.
Delicious has been an incredibly useful tool for my position as formal recruitment chair in Alpha Delta Pi. I have written several blogs about the recruitment plans for our chapter, and have been able to include links to websites where clothes should be purchased. It has been useful because while searching online for clothing and outfits members could potentially wear, I can tag all sites to delicious and easily search for them. I am also able to show them to other members of the recruitment team when I am not using my own computer which has saved a lot of time.
Additionally, rather than having to choose a folder to store a bookmark, I like that I can assign as many unique keywords as I would like in order to find the tag when I am searching again. It is convenient that I do not have to create and organize folders on my own, but rather delicious does this work for me.
The delicious experience has also made me search the internet more on a daily basis than I would have. It has made me discover many other interesting websites that I would not have explored otherwise. By checking popular tags and my friends' tags I have found new and interesting websites.
Posted by ckaitlyn at 08:59 PM | Comments (0)
April 11, 2007
Final Recruitment Themes!
After attending a meeting with the rush chairs from each house, our recruitment themes have been approved. This entry will tell you what you need to wear and where you can purchase the clothes!
First Set (Mixers) - September 16, 17 -
For this set the theme is ADPi Casino Queens. Wear one all black piece and one all black and white piece. A black and white dress is acceptable as well. The white in the outfit must be noticeable – pinstripe dress pants aren't exactly what we are looking for unless the stripes are thick. Wear stripes, flowers, polka dots, lace, anything! Make sure it is dressy, keep it classy. Keep in mind that it will probably be hot during mixers, especially with the house full and you being nervous, so you may not want to wear pants and a sweater. Wear black dress shoes- sandals or closed toe, but make sure they are comfortable. No flip flops. No tights or nylons. Fun black or white jewelry or simple silvery jewelry will make a great addition to your outfit!

Second Sets - September 19, 20 -
Second sets is a new theme this year called Summer of ADPi! For this set we will be wearing a solid pastel color t-shirt or tank top. The shirts will be ordered after each person selects a color to wear - and as a bonus, they are free!! As bottoms you should wear either pastel, stripe, or plaid colors that go well with the color top you selected. It would be best if they were seersucker style. These should be kept in pastel colors or white. You may choose to wear shorts, capris or bermuda shorts. For shoes wear flip flops that match your outfit well. You may wear sunglasses in your hair if you would like as well. There are several stores carrying these styles of shorts and capris right now:
J. Crew solid color shorts
J. Crew shorts and bermudas
American Eagle Shorts
American Eagle Capris
Old Navy Shorts and Capris
Pacific Sunwear Shorts
Abercrombie and Fitch Shorts and Capris
Hollister Shorts and Capris

Third Sets - September 25, 26 -
Wear a solid white dress. It can have minimal lace or design, but it must be all white, not cream or anything else. The dress should not be inappropriately short, nor should it fall far below the knee. It can be strapless, spaghetti, tube top, halter…anything you want. You will be given teal ribbon to tie around your dress somewhere, so keep this in mind while selecting a dress. Shop for this early! If you wait until the last minute to find a dress, and you can't find one, you won't be able to rush, the house will suffer, and you will be fined. Do not risk it, shop early, and don't return to school in the fall without one! (You need a white outfit for initiation anyway, this will be perfect!) You can also wear a white or teal headband if it is approved by the RVP or FRC. If you would like to wear your hair up, you must wear a teal ribbon. Wear white dress shoes they can be cute flats or lower heels, as long as they match appropriately with your dress. If you are wearing a short dress, you probably don't want to wear really high heels. Remember, you want to be comfortable and look classy! Wear diamonds (if you have them) or rhinestones. If you have real tiffany's jewelry, wear it!
There are some stores that have really great white dresses right now – so again, shop early:
Old Navy Dresses
Victoria's Secret Dresses
American Apparel Dresses

Preferences - September 28 -
This is the easiest set to find clothes for. Wear an all black cocktail dress. Keep it classy, keep it fancy, and look beautiful. Wear black shoes that match your dress well. Simple black or silver jewelry that goes well with your dress is perfect. You always need that "little black dress" in your wardrobe, so if you don't have one, don't feel bad about buying one because you will always wear it again. You could even wear it to formal or semi formal!
On a final note, please follow the directions for the outfits. You know what is appropriate and what is not. If your outfit is not approved by either the Recruitment Vice President or Formal Recruitment Chair, you will not be allowed to recruit that set. Don't let that happen! If you shop early you can wear your outfit all summer! Just remember not to wear your outfits once you return to school, as this may constitute a recruitment violation.
Posted by ckaitlyn at 12:39 AM | Comments (0)
April 10, 2007
Kelly's Deli.cio.us Tagging Experience
The Deli.cio.us Tagging Site is an interesting tool to use for saving and accessing my favorite websites from any location. Before BIT200, I had never heard of Deli.cio.us, and experimenting with tagging has provided me with internet search experience, along with a lifetime tool useful for any occasion, at home or work.
Over the semester, I was able to tag 150 sites. Starting the assignment, I never thought I would find that many interesting sites. Furthermore, over a third of those tags are related to technology. At the beginning of the semester, I knew very little about the topic, and searching through over 50 technology sites has greatly increased my knowledge of computer systems and business information technology.
The Deli.cio.us Site also came in handy when completing assignments for other classes. In my UC245 class, we are graded on take-home written midterms. After researching information at the library, I often saved research sites to my Deli.cio.us account from the library computer, making it easier to find the sites from my home computer. For this reason, 11 tags are tagged with "uc245" and relate to this University of Michigan class.
Many of my tags have a recognizable chronological order. For example, I searched sites related to the BIT class' weekly topic. The tags also reflect the events occurring in my life - in my classes and and my sorority. I tagged websites with supplemental information to my weekly blogs, all referring to my sorority Alpha Delta Pi. These websites are provided as html links in each blog entry. Out of the 18 sites tagged for ADPi, about half are included in my topical blog site.
Many of the tags also come from websites referred by other Deli.cio.us users. Although, I never followed a particular user in my network, I often looked through the "Today's Popular Tags" posted by many other users from throughout the Deli.cio.us network. These tags were incredibly interesting and often related to BIT class topics. I discovered sites I never would have found on my own.
Overall, Deli.cio.us is a great tool. I would recommend it to any internet user who wishes to access bookmarks from many different sites. It was surprisingly easy to use, and I learned so much information just from searching through the sites. This assignment was valuable to my topical blog assignment and to the BIT200 course as a whole.

Posted by shillaik at 12:14 PM | Comments (0)
PIKE Comedy Night
Tonight, April 10, 2007, Alpha Delta Pi's Greek Week partners of Pi Kappa Alpha are holding their annual PIKE Comedy Night for charity fundraising. The event has always been a big hit and helps the local fraternity raise philanthropy money. Comedy Night starts at 8:00 pm in the Michigan Theater, with doors opening at 7:30. Tickets are $15.00 and can be purchased at the door, from a PIKE brother, or online at the PIKE Comedy Night Website. CollegeHumor.com's Steve Hofstetter will provide the entertainment, along with touching speeches about the charity and cause. This year, 100% of the proceeds will be donated to the Gary Green Foundation, to help Gary Green walk again.
Gary Green is a former high school classmate of one of the PIKE brothers, James Heike. They grew up in Montclair and played football together. Heike came to the University of Michigan, and Green went off to the University of New Haven to play college football. Unfortunately, during his second game, Gary Green suffered a spinal cord injury, paralyzing him and causing the doctors to diagnose him as a quadriplegic. Since his injury, Green has regained some movement and can now even use his laptop to take online courses. Gary is determined, and he participates in grueling physical therapy sessions for hours each week. The local PIKE fraternity brothers were touched by Green's story and quickly agreed to donate to his cause. To learn more about Gary Green, please read this article.
Amazingly, our sisters at Alpha Delta Pi have shown almost as much interest as the PIKE brothers in this event. Maya Leeds, an Alpha 06, also grew up in Montclair and knew Gary Green. She was touched when she saw how much the girls cared about attending the Comedy Night. Thanks to support from Maya, and hard work from other girls in the house like Kaitlin and Lauren, Alpha Delta Pi purchased more tickets than any other sorority on campus. To show their appreciation, the PIKE brothers are throwing us a preparty before the event.
Tonight will be a great night to socialize with the PIKE brothers, watch some quality entertainment, and donate to a great cause.
Posted by shillaik at 11:24 AM | Comments (0)
April 04, 2007
Famous ADPis
Check out some of these amazing women that all share something in common with each and every one of us!
WE ARE ALL ALPHA DELTA PIs!!!
* Kate Capshaw (Alpha Gamma) - actress (Indiana Jones and the Temple of Doom) and wife of Steven Spielberg
* Deana Carter (Alpha Kappa) - singer
* Nancy Grace (Delta Theta) - CNN News
* Lauren Catuzzi Grandcolas (Delta) - author, passenger on United Airlines 93
* Neva Jane Langley (Gamma Gamma) - Miss America, 1953
* Karen Parfitt Hughes, (Alpha Zeta) - Under Secretary for Public Diplomacy and Public Affairs
* Danica McKellar (Alpha Chi) - actress; (The Wonder Years)
* Jessica Nelson North (Theta) - poet and author. Editor at Poetry
* Sandra Palmer (Gamma Upsilon) - Professional golfer
* Lu Parker (Zeta Sigma) - Miss USA 1994; KTLA-TV news correspondent
* Emily Procter (Delta Omicron) - actress; (CSI: Miami, The West Wing)
* Carol Shields (Phi) - author; winner of the Pulitzer Prize for Fiction, 1995
* Jean Smart (Alpha Theta) - actress; (Designing Women, 24)
* Cathy Deupree (Eta) - singer
* Judy Woodruff (Omicron) - news correspondent
For more Famous ADPis check out this website ADPi:Yes We're Simply That Famous!
Posted by rlbrewer at 09:03 PM | Comments (0)
April 03, 2007
Ronald McDonald House Charities


As mentioned in the previous Greek Week blog, Alpha Delta Pi -as Greek Week Champion 2007- has recently received a portion of the funds raised during the University of Michigan Greek Week competition to donate to the local Ann Arbor Ronald McDonald House. Ronald McDonald House Charities is a national charity committed to helping needy children. Because of its support and care for children, Alpha Delta Pi sorority has made Ronald McDonald House Charities our national philanthropy. Philanthropy is a main priority of this sorority, and I would like to tell you more aobut ADPi's national philanthropy.
Ronald McDonald House Charities consists of three programs: the Ronald McDonald House, the Ronald McDonald Family Room, and the Ronald McDonald Care Mobile. Ann Arbor is home to one Ronald McDonald House, which acts as a "home away from home" for families of ill children receiving treatment at the nearby University of Michigan hospital. Local college students volunteer at RMH to play with the children, help provide food, and take care of their needs. Just having these visitors can make the health issues that much easier to deal with. In addition to service programs, Ronald McDonald House Charities has donated $440 million in grants with the goal of making a positive impact on as many children as possible.
Ronald McDonald House Charities would not be able to have such a large impact on children without the help of donations. For this reason, Alpha Delta Pi continues to be an active supporter of the charity. This year, Beta Eta Chapter has donated $1,500.00 from the ice cream social, an additional undisclosed amount raised by Mr. Greek Week, and the proceeds received from Greek Week, which will hopefully amount to about $6,000.00. ADPi really makes a difference for this organization. Our sisters work hard for this great cause - congratulations girls, and keep it up!
Ronald McDonald House Charities recognizes our support, and recently at Mr. Greek Week, a representative from the local Ann Arbor House stood up on stage and spoke of how thankful the House is for our donations. We also received a Thank You letter in the mail from RMHC.
For more information on Ronald McDonald House Charities, please visit the RMHC website.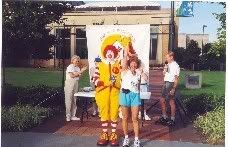 Posted by shillaik at 11:04 AM | Comments (0)
March 31, 2007
Formal
Last Friday evening on March 30th ADPi held its annual spring formal. Formal was certainly another wonderful ADPi date party to remember. Held at the Four Points Sheraton hotel, ADPis and their dates enjoyed dinner, dancing, and a short bus ride...The event was held in the grand ballroom, which was beautifully decorated. This is the largest ballroom in Ann Arbor, and can be rented out for other events as well. Simply visit this link.
This was the last date party of the year (except for seniors) and was free to all members. Girls showed up in beautiful spring dresses and the weather was the perfect temperature to wear them. To many, it felt like prom again because it was so fancy and the weather was nearly perfect.
The seniors have another date party and their annual "bells" to complete at the end of this week. This is the time for seniors to bond at Michigan for a few final weeks with their sisters. Don't worry though because ADPi sisterhood lasts a lifetime!
Posted by ckaitlyn at 11:58 PM | Comments (0)
March 29, 2007
Get Ready for Room Preferences!
Ok ladies this is just a quick little reminder for all of you that will be living in the house next year. Room prefs are coming up and that means three things:
1)Find a roommate(s)
2)Pick out a room
3)Get your PRIORITY in order
The best thing for you to do as far as priority is to list what you have done this semester to gain priority. This will help you to estimate how much you will have. This is very important because the room you get to choose is based on your level of prioirity in comparison to the other ladies in the house. OFFICERS: if you promised priority for any activities you need to get your lists of girls that received priority to Christina Micelli ASAP!
So here's the dates you need to know:
APRIL 9th: Room sign-ups
APRIL 16th: Actual Room-prefs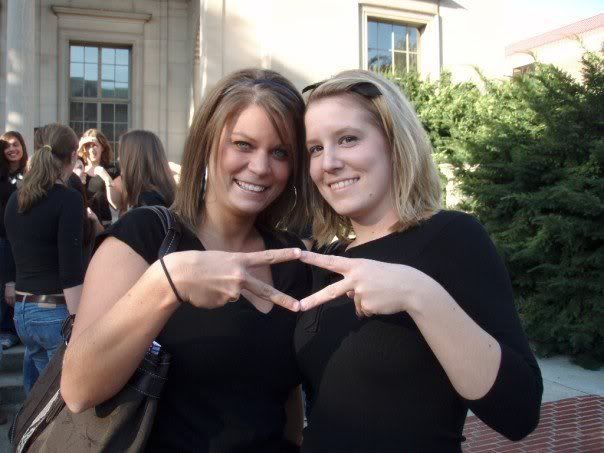 So get excited to live-in for the first time or to do it all over again! If you need a reason to: because I'll be there!
P.S. I LOVE ALL OF MY DIAMOND SISTERS!!! SO PROUD TO BE AN ADPi!!! TEAM ONE LOVE!!!!
<>still can't believe how great yesterday was! TEAM WON!!
Posted by rlbrewer at 12:29 AM | Comments (0)
Greek Week 2007 Champions - Team 1!
The results are in:
The 2007 Greek Week Champions are none other than Team 1, consisting of our own Beta Eta Chapter of Alpha Delta Pi, Pi Kappa Alpha, and Delta Upsilon. This year's win marks the fifth ADPi Greek Week victory out of the last seven years. Needless to say, our girls deserved this title. For the last week and a half, we have worked so hard at promoting participation, cheering on our team members, putting 100% efforts into the competitions, and demonstrating that we are the best team out there.
Greek Week ended on Tuesday, March 27, 2007, with the Sing and Variety performances. Sing is an annual competition in which eighteen members of each team perform a short acapella montage complete with costumes and choreography. This year, Team 1 sang to the theme of "8th Grade's Back" with song choices like "All My Life," and "Baby Got Back." Costumes consisted of khakis with dress shirts for the guys and pleated skirts with white blouses for the girls. Couples danced at arm's length and disc-jockeyed with imaginary turntables. Their voices were phenomenal, and the Sing team placed second in the overall competition. Congratulations Sing!!
Variety is an annual dance competition between the thirteen Greek Week teams. Our variety team has been working on the performance since the end of January, with some weeks consisting of twelve hours of practice. This year's theme was "Remember The Name" and included hit songs from popular artists like Chris Brown, Usher, and Justin Timberlake. The Variety dancers incorporated hip hop, modern dance, and acrobatic flips into the performance. For costumes, girls wore baby-blue shirts with white sweatpants, and guys wore dark bluejeans with blue t-shirts, white gloves, and white hats. Due to a combination of impressive choreography, synchronization, flips, and stage presence, our Variety team received the third place trophy. Congratulations Variety!!
As a result of these two placings, on top of the multiple other top-place performances over the week, Team 1 beat our competition from Team 6 by a small margin of under 100 points. When the winner was announced from the stage of Hill Auditorium, our entire section jumped in the air and filled the auditorium with screams of happiness. The feeling was unreal. After, the team walked/ran over to the PIKE fraternity house on Washtenaw to celebrate together. It was an all-around amazing night.
TEAM WHAT?? TEAM ONE!!!!
To read a summary of the activities, fundraising details, and events completed during Greek Week 2007, please visit the G.U.T.S website.
As the new Champion, Alpha Delta Pi will receive a percentage of the proceeds raised by the Greek Week activities to donate to our national philanthropy, The Ronald McDonald House.
Posted by shillaik at 12:11 AM | Comments (0)
March 22, 2007
Dance-Off
Team What? Team One!!!
On this past Tuesday evening Team 1 finally stepped our game up and left with first place in the Dance-Off Competition that has held at The Necto on E. Liberty in downtown Ann Arbor.
Thanks to our amazing Variety Team Captains, Ms. Ashlynn McGill and Mr. Matt Gahman, we were able to be victorious. Ashlynn and Matt danced their way through rounds one and two first with a dance-off followed by a prepared routine. Round three consisted of only five teams that were chosen to advance. After watching the next five prepared routines our team anxiously awaited the results. An explosive burst of cheering from all of our team one supporters when they announced team one as the winners. It was great to see Ashlynn and Matt's faces and see the pride all of our members had for our team that night.
This is the TURNING POINT!!!
Besides a first place victory what does this mean? This is the turning point for team 1! Like Kelly had blogged about previously our interest in winning has seemed to disappear. Well Greek Week teams around campus, we're BACK and we're BACK WITH A VENGEANCE!!!
So ladies and gentlemen let's keep it up! Let's keep showing up in large numbers so that we can win the spirit points and not just the events!
Team One Love!!!
Posted by rlbrewer at 12:03 PM | Comments (0)
March 20, 2007
RESPECT
Greek Week is in full force, but unfortunately, many of the Beta Eta sisters are not. When we found out we were with Pike at the pairings party in January, the whole campus was talking about how Greek Week was OVER - Pike and ADPi had it in the bag. But now that Greek Week is actually here and events are taking place, our team is not showing up. We may have amazing partners and years of Greek Week experience, but girls, we cannot win unless we go to activities, participate, and make a full effort to do our best in EVERY event. This means signing up for State St. Day events, eating at Za's or NYPD, going to Journey of Dreams, watching Mr. Greek Week, cheering on Sing/Variety, swimming laps at Anchor Splash, and giving blood. All of the little things add up - we need your points!!
Furthermore, the girls that are participating need our support. Haley and Kaity have been sacrificing everything to plan our entire week, Jessica has put hours of her own time into Mr. Greek Week, and Ashlynn has been dancing until 3am every night this week for the dance-off and variety. Plus, the SING team and Variety teams have been practicing 3 days a week since February. This amount of work shows what Greek Week should mean to ADPi. Greek Week is about Charity, and the fundraisers will not work without our support. Other teams are raising the bar; where is team 1?
As the week progresses, the most important thing to remember is that this is not even close to being over. We can turn the rankings around in just a few events. Being a part of a team means acting like a team. We have to support our sisters and have respect for each other. Have respect for event coordinators, help out our greek week representatives, and despite the outcomes, maintain respect for the steering committee. Everyone has put SO much work into this week, and we need to remember that the entire point of Greek Week is Charity!
So in conclusion, we need to step it up. Go to the dance-off tonight, Journey of Dreams tomorrow, State St. Day on Friday, Anchor Splash on Sunday, Mr. Greek Week on Monday, and Sing/Variety on Tuesday. The end is a week away, and this is supposed to be the most exciting week of the year. Have fun with it, and remember what Alpha Delta Pi is all about - sisterhood, philanthropy, loyalty, and fun!
For Greek Week Rankings, visit Greek Week 2007: G.U.T.S.
Posted by shillaik at 11:19 AM | Comments (0)
Schedule for Greek Week: Week 2
Alright ladies, Greek week has officially begun so lets get out there to all the events and show our Team 1 Spirit!
Here are the events still to come:
19th - 22nd: Blood Drive (let's save some lives ladies!)
20th: Dance Contest at Necto at 9pm

21st: Journey of Dreams 7pm at Rackham Auditorium (This is mandatory! It determines our seating for Sing and Variety!)
23rd: State Street Day
Fooseball: 11am at Phi Psi
Obstable Course: 11am-12pm at Chi Psi
Volleyball: 11am-2pm at ADPhi
Tug of War: 12-3pm at Phi Psi
Food Eating Contest aka Scooper Bowl: 1-1:30pm at Sig Ep
Arm Wrestling: 2:30-4pm at ADPhi
Musical Chairs: 2:30-3pm at Sig Ep
Corn Hole: 3-5pm at Chi Psi
Mascot Challenge: 3pm
24th: AnchorSplash! 12:30-3pm at Canham Natatorium
24th: G Men Concert 8pm, MLB Aud 3
26th: Mr. Greek Week 7pm, Power Center (This is also mandatory, it is ADPi's event and it's for our philanthropy!)

27th: Sing and Variety 7pm, Hill Auditorium
*Remember, if you can't compete in an event, just show up and cheer for your sisters and earn spirit points! Don't forget to wear your team shirts (you know they're cute)
We'll be sure to keep you posted with the results from all of the events throughout the week so check back here for results!
You can also visit the Greek Week website for more information:
http://www.umich.edu/~greekwk/
Posted by ckaitlyn at 12:09 AM | Comments (0)
March 18, 2007
Getting Ready for Recruitment
So I know that this is extremely early to be preparing for but I am so excited for Recruitment next fall!!!
This Fall ADPi will helping out with gifts for Diamond Days so that each girl does not have to spend a lot of money out of their own pockets. ADPI will be purcahsing for each new Alpha a tchirt, cups, pens, scrapbooks, a picture frame, and a stuffed "Alphie" lion. You still may purchase other items for your littles if you would like. If so I suggest you check out the ADPi Gift Mart or ask Ashley Budd for help. Ashley is this year's Gift Mart chair.
Also just so that you guys can start getting excited...
Bid Day will be on Sunday, September 30th and this year for our bid day activities we will be going bowling and having ice cream sundaes.
Also for our chapter retreat, which will be October 5th, we will be going rock climbing. I am personally very excited for this!!
Our Member Education Team and Recruitment Team have been working really hard and spending a lot of time on making sure that next fall we will have the BEST recruitment possible. If you have any questions feel free to contact any of these teams members. Over the summer I hope that you all begin to get excited for Fall 2007 Recruitment!!!!
Posted by rlbrewer at 11:41 PM | Comments (0)
March 13, 2007
Sing!
Congratulations to everyone in the Sing competition! Go team 1! The final teams were announced on Sunday and we are in the finals!
Our Greek Week Team, consisting of ADPi, Pike, and DU are singing a flashback to 8th grade medley. This will feature songs by N*Sync, Backstreet Boys, Christina Aguilera, The Vengaboys, KC and JoJo and more!! It's going to feel like you are right back in that awkward 8th grade year again!
If you feel like reminiscing back to those songs that used to be your favorites, check out these sites:
Backstreet Boys
N*SYNC
The Vengaboys

Living in the house, you have probably heard them practicing and they sound great! If you haven't heard them, Sing and Variety will be held on March 27th! It is the last night of Greek Week and it is one amazing finale so be there!!
Posted by ckaitlyn at 12:14 PM | Comments (0)
"My Tie" at the Cavern Club
Last Thursday, ADPi had its second date party of the semester at the Cavern Club. This is also the second time that a date party has been held there this year. The first date party was held early in September, before we recruited a new pledge class. Thursday's theme was "my tie". The goal was to have a sister ask for your date's tie, and then when your date shows up, he sees you wearing his tie, and then he says, "hey that's my tie...you must be my date!" While most people simply asked their dates themselves, a lot of sisters still enjoyed the theme and wore their date's ties to the party.
Cavern club is conveniently located in Ann Arbor, so it is an easy date party to get to, however, as always it is against our risk management policy to come or go not on the ADPi buses. It is a uniquely decorated club, with a lot of seating areas, a bar, and a dance area. To learn more click here!
This was our last informal date party of the semester. Get ready for formal ladies, it is going to be held on March 30th!
Posted by ckaitlyn at 11:51 AM | Comments (0)
Body Image Speaker
On Monday March 12, 2007, Ellen Adamini, the Beta Eta Chapter president, cancelled the weekly chapter meeting and required all girls to attend a Body Image Speaker. The event was sponsored by the University of Michigan Panhellenic Association and held at Rackham Auditorium. The speaker was Leslie Goldman who is a health and medical writer for the American Medical Association. Leslie wrote the book The Locker Room Diaries which provides influential, often comical, descriptions of fitness center locker room conversations between women, along with great advice about how to feel great about your body - the way it is.
Leslie began her speech with a very personal story of her own body image issues which began at a young age. She always observed beautiful, skinny girls with big boobs and platinum blonde hair getting all of the attention from the guys. She felt she would never measure up, and one day while flipping through a magazine, she came across a picture of the gorgeous Cindy Crawford which listed her weight at 120 pounds. Leslie thought 120 was the magical number, and she began an extreme diet with intense hour-long runs every day. She lost 5 pounds in the first week, and the weight kept coming off until Leslie reached that magical number. But she didn't look like Cindy Crawford, she looked unhealthy and still felt fat. That was when her family finally told her she couldn't go back to college until she got help. With help from her family, friends, and anti-depression medicine, Leslie turned her life around. Now she wants to help other college girls with distorted body images gain a sense of confidence and happiness about their individual, unique, beautiful bodies.
Leslie told more stories of poor body image, including tales of three-year olds on diets, and girls with envious double d's wishing they had smaller boobs. It seems like no woman is ever completely happy with her body, and this is what Leslie wishes to fix. In the most interesting part of her speech, Leslie showed before and afters of digitally reconstructed modeling pictures. In the original photographs, the models are beautiful, skinny, and completely natural. But according to the modeling business, these models are not good enough for the American media. They need to be touched up. The photographs are digitally remastered, eliminating wrinkles, hiding freckles, changing hair and eye color, rotating belly buttons, carving out wastes and thighs, and basically changing the model into a whole other, unnatural person. What is so sad is that teenage girls worship these models, not knowing how unnatural they really are in the pictures. No wonder we can never measure up.
Leslie's speech was captivating and influential. She made me realize how horrible it is to cut yourself down for our bodily "flaws". Our differences make us who we are, and women have so much more going for them then having a perfect body - we have families, our intelligence, and our future. For once, women need to leave the scale behind and focus more on health and happiness.
For more information on health and body image please visit Body Image and Self Esteem.
Posted by shillaik at 10:43 AM | Comments (0)
March 08, 2007
Schedule for Greek Week: WEEK 1
Ok ladies it is just ONE week until the start of GREEK WEEK!!!
As Team#1 we MUST be #1!!!!
With our lovely partners, Pi Kappa Alpha and Delta Upsilion, we are going to have a blast in all of these exciting activities and competitions.
For our first week we need girls to participate in the events and more importantly girls to help cheer on our team players!!!

So here's the list of events:
March 14th
Banner Competition
We need some super artistic girls to make a banner for our house. If you are an artistic genius and want to work on this give Haily and Kaity an email at adpigreekweek@yahoo.com
March 15th
Greek Olympics
Today is the start of Greek Olympics with T-ball at 5pm at Burn's Park. Come to play or cheer on our team!

March 16th
Greek Olympics Day2
All of today's events will be held at Burn's Park!
10AM Dodgeball
11-12 Human Alphabet (We will need to make letters with our bodies)
12-1:30 B-ball shootout
12-2 11 Legged Race (This is a 3-legged race with 10 people)
1-2 Egg Toss
2-4 Crab soccer

Next week has even more exciting events coming up so stay tuned! I hope that everyone has a blast and contributes to what hopefully be a landslide victory for Team#1!!!
Don't forget:
Eat at NYPD and Za's for Greek Week points!
Also, donate cans and change for the can drive and penny wars! For penny wars all silver is positive and pennies are negative.
<>Greek Week love!
Posted by rlbrewer at 12:50 AM | Comments (0)
March 06, 2007
Alcohol Awareness Workshop
On Monday, March 5, 2007, Alpha Delta Pi held this semester's mandatory Alcohol Awareness Workshop. Run by the chapter Membership Education Vice President, Freya Motafram, the workshop was intended to inform our sisters of the effects of alcohol and give pointers on how to party safer.
Alcohol is the most widely used drug on the University of Michigan campus. It is also the most prevalent date rape drug. The parties are fun ways to socialize with other students throughout campus, but the consequences of misusing alcohol are devastating. Binge drinking can lead to unconsciousness, alcohol poisoning, and in the worst case, death. Please be responsible and use the following pointers to stay safe:
1. Take responsibility for your sisters. If someone you're with has had too much, don't be worried that she might get mad at you if you tell her to stop drinking. Always stick together, and look out for each other. If you leave the house together, come home together.
2. Pour your own drinks, and keep track of how many drinks you have had. A drink constitutes one shot, a small glass of wine, or a 12oz beer. Be aware that mixed drinks often contain up to three shots of alcohol. Most importantly, if you set your drink down, even if just for a second, get a new one. Don't give anyone the chance to slip something into your drink.
3. Signs of alcohol poisoning include lack of consciousness, slowed breathing, vomiting while unconscious, cold or clammy skin, and the inability to be woken up. If anybody you know is in this state, stay with them. Don't try to force them to eat, keep them on their side in the fetal position, and be aware of choking. And if you are unsure, call 911. Please do not be afraid of legal consequences. An MIP is much better than losing your friend.
4. In the state of Michigan, your body is a container. It is illegal to have anything in your system if you are under the age of 21. If 21, it is illegal to drive if your blood alcohol level is .08 or above. Never let your friend drive drunk, wander home alone, or make belligerent irrational decisions.
5. Keep your drinking below a level at which your rationale or inhibitions are greatly reduced. Unawareness of your actions may lead to regretful decisions, injury, or unsafe sexual encounters. Stay alert and aware of your surroundings, and overall, just be responsible. I can't stress this fact enough. It is ok to party, but be smart, and stay safe. Besides, nobody likes a sloppy drunk.
If you have any questions on how to control your drinking, or if you think you need to talk to somebody, Alpha Delta Pi has two Pulse leaders - Mandie Lupone and Jessica Barr - and a Sapac member - Allison Merideth. They are always willing to help.
Additionally, please visit thisAlcohol Awareness Pagefor more facts on alcohol usage and its effects on your body.
Posted by shillaik at 09:49 AM | Comments (0)
March 05, 2007
Needs Assessment
Tonight after chapter the annual Needs Assessment workshop was held. Although only the '06 pledge class attended, it is important that the entire chapter be aware of what was discussed at this workshop. Every member has attended this workshop before at some point, and has given their input, and so should realize its importance. The workshop helps determine the current status of the chapter. It is designed to help the chapter assess strengths and weaknesses and areas of challenge or potential growth. At the workshop we establish a guideline or roadmap for chapter development. It is also necessary to define what the ideal ADPi member should be, this way during recruitment, the whole chapter knows what qualities to look for in a potential new member.
These are the results:
Strengths Within Chapter:
• Down to earth
• Reliable
• "Chill" / Laid Back
• Balance between work/play
• Well dressed
• Classy
• Well mannered
• Outgoing
• Campus involvement
• Not all blonde/diverse
• Laid back
Areas for Improvement:
• Bid day
• More activities with frats and sororities
• Stronger academics
• Reputation on campus
• More activities while alpha members
Strenths in Other Chapters:
• Less cliquey
• More (better) reputation
• Close knit – bond more
• Stronger academics
• Outgoing, excited about house
• Seem uniform
• More activities, date parties
• Fraternity relations – more, branch out with sororities too
• Better bid day
Ideal ADPi member:
• Classy, well mannered
• social skills, fun
• Spirited
• Desire to be in house
• Down to earth
• Good academics, good grades
• Involved (on campus)
• Outgoing
• Friendly, cheerful
• Polite
Posted by ckaitlyn at 11:01 PM | Comments (0)
Spring Break 2007
On February 24, approximately 25 University of Michigan Alpha Delta Pi's all wearing flip flops gathered in the house living room with arms full of luggage. It was 3:30 AM, and everybody was heading for the airport with only one destination in mind: Acapulco for Spring Break 2007!
The plane took off around 7 that morning and touched ground in sunny Acapulco, Mexico around noon. Hundreds of Michigan Greek Life members stepped off the plane to be greeted by 90 degree weather and palm trees blowing in the breeze. After making it through customs and finding the way to the hotel (Playa Suites) girls ran up to the rooms, dumped the luggage, threw swim suits on, and ran back down to the pool. This was the start of one of the best weeks of their lives.
Each day, girls wandered down to the pool around 10 in the morning to eat a genuine Mexican breakfast and soak up the sun. They made friends with people from all different houses within the Michigan Greek Life in addition to Spring Breakers from Oakland and Sienna, New York. Girls could lay out on the beach, get massages, go jet skiing, go banana boating, rent out a yacht, jump off a 10m platform into the pool, go bungee jumping, swim in the pool, participate in friendly competitions, go shopping at the local Mexican markets, practice spanish, eat at the numerous local restaurants, play beach volleyball, or just relax.
During the night, girls usually took naps and then got ready for the many extravagant Acapulco night clubs. They usually left the room around 11 and would not return until 5 or 6 in the morning. The night clubs offered unbelievable performances, amazing views of the Acapulco bay, fireworks raining down the glass walls, and intense dance music. The energy was out of the roof every single night. At one particular club called Palladium a dancer completely painted in iridescent silver paint wearing an aztec costume with a giant feathered headdress came out every night around 4 AM. Strobe lights danced, and confetti fell down from the ceiling. The feeling the girls got while dancing and watching the performers in these clubs is indescribable.
With the day activities, gorgeous weather, warm ocean, pool, delicious food at the local restaurants, new friends, and night clubs, the fun times in Acapulco never ended. The girls returned on March 3 and will still be telling stories for weeks to come.
Acapulco was absolutely amazing, and it is recommended that if you didn't go this year, make the investment to go next year. You will have the time of your life.
~**Acapulco Spring Break 2007!!!**~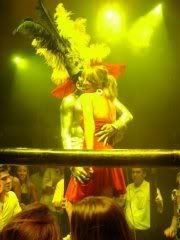 Posted by shillaik at 08:35 PM | Comments (0)
February 20, 2007
New ADPi Recruitment Plans Coming Together
After attending the District Leadership Conference this past weekend, our final plans for recruitment are coming together. Recruitment takes the enthusiasm, spirit, and energy of the chapter as a whole. The recruitment team consists of the Recruitment Vice President, Formal Recruitment Chair, Philanthropy Chair, Public Relations Chair and the Alumnae Relations Chair. Each member of the chapter belongs to a member of the executive board's team. Find out which team you are a part of!
The themes for recruitment parties have changed slightly from last year, but are not yet finalized, as they must first be approved by Panhel. The final plans are due in mid-March, and when they are finalized, all chapter members will be informed of the details. We have an amazing new song and theme ideas, and with the help of the foundation from previous years, the recruitment team hopes to make this year's recruitment the best ever! FUNshops for recruitment will begin the Monday after everyone returns from Spring Break, when we will be holding a needs assessment workshop, which is mandatory for all recently initiated delta members. This will help us decide on what attributes the ideal member of Alpha Delta Pi should have.
Next year during recruitment, we will be expecting much more senior involvement than has been received in the past. As was said earlier, it takes the entire chapter to make recruitment successful. Seniors will be assisting the recruitment team in holding workshops, training younger members on conversation skills, bump groups, and also to help with practices. All practices and party sets will be mandatory for all members, unless previously excused. Attendance policies will be enforced equally for all members, regardless of senority.
The recruitment team would also like to remind everyone to wear their letters every Wednesday. If you need more ADPi gear click here! It is neccessary for ADPi to have its name become well known on campus. Older members at UofM will have influence over the freshman that go through formal recruitment, and sophomores go through recruitment as well. Please always remember to act in a manner representative of what Alpha Delta Pi stands for. Be respectful, classy, and also take pride your personal appearance.

Posted by ckaitlyn at 11:41 AM | Comments (0)
District Leadership Conference
On Friday, February 16, the Beta Eta Chapter of Alpha Delta Pi held a formal dinner for all Beta Eta officers, advisors, district leaders, and a few alumni. Our sisters looked professional in the best pin attire, and the dining room filled with ADPi members of all ages. Newly initiated delta members served each table three courses: salad and rolls, a chicken entree, and a rich chocolate cake dessert with strawberries. Overall, formal dinner was a relaxing (and delicious) way to spend time with the VIP's of Alpha Delta Pi before the big weekend of our annual District Leadership Conference.
After dinner, the Executive Committee met with advisors for three hours to discuss lease issues, weekly announcements, philanthropy, recruitment ideas, and standards procedures. When the meeting was finally over, we quickly packed our bags and left for the Eagle Crest Marriott hotel in Ypsilanti, Michigan - where the District Leadership Conference activities would begin.
Twelve members attended the conference, including all eight members of the executive board in addition to philanthropy, scholarship, formal recruitment, and new member coordinator. Moreover, there were many other Alpha Delta Pi chapters at the Marriott. Girls traveled from as far as Nebraska and Canada. On Saturday morning, meetings began at nine, but as early as eight am, girls were already running up and down the halls screaming out ADPi cheers. The large conference room filled with sorority girls singing, "I've got all these sisters who rock my world," and other songs alike. I thought I was at a cheerleading convention.
Despite the spirit, District Leadership Conference was actually a serious opportunity to learn about the specifics of being an officer. I learned so much about my position that I was not aware of before attending the conference, and I think the other eleven attendees feel the same. We were in meetings from nine in the morning until ten at night on Saturday, only to start again at eight Sunday morning. We were all exhausted, stressed out from midterms, and sick of screaming sorority girls, but I can honestly say that the conference was benefitial. We all got a better sense of our responsibilities and the roles of our fellow officers. I believe our Executive board is closer now and more willing to communicate and work together as a board and with other officers.
And for your pleasure, we had to come up with a logo/slogan for our chapter, and this is what we created:
"We strive high... A-D-Pi...you know this... DIAMONDS!!!"
(There is also a very nice poster illustrating this slogan, and I strongly suggest you ask one of the officers if you can see it.)
Posted by shillaik at 10:14 AM | Comments (0)
Social Fun
ATTENTION LADIES...this is what you have all been waiting to hear about!!!
We have finally announced our location for our next Date Party. This will be at the local Cavern Club and will take place on Thursday, March 8th. Our social chair, Casey, has been working hard in order to organize an outstanding date party event. This date party will be a My-Tie as well. For those of you who do not know what a My-Tie is it is a great opportunity for you to "set-up" your fellow sisters. The object of My-Tie is for a fellow sister to pick out a date for you and ask them for their tie, literally. She will give you the tie and tell you when and where to meet your date before or will have your date meet you at the house. Your date may not necessarily know if he is going with you so he will be looking for his tie on one of our lovely ADPis!
We are also planning on making tie-shaped cookies to give our dates. This is a great way for all of us to do something together as well. At the Cavern Club there will be Kareoke and also lots of the latest music so that we can all have a great time. So get your checks made our to ADPi for thirteen dollars and get them to Casey ASAP!
So to summarize:
My-Tie Date Party
Thursday, March 8th
Cavern Club
9:15pm-be at the house
Next line of business: FORMAL!!!
Although we do not have all the details yet, start getting excited for this year's formal which will be Friday, March 30th. Our formal will be in the Grand Ballroom at the Four Point Sheraton in Ann Arbor. To check it go here: ADPi Formal!
Stay tuned for more info and as always...if you have any questions just ask!
<>love
Posted by rlbrewer at 12:30 AM | Comments (0)
February 16, 2007
ADPi Girls at Work!!!
Between school and extracurricular activities there is often little time for much else. However some of our beautiful ladies can also be found at their workplaces.
You can find them hard at work in these great positions and places on campus:
-Outback Steakhouse
-Pizza House
-Starbucks
-Lifegaurd
-Study Group Leader
-Trauma Burn Intensive Care Unit at U of M hospital
-Campus Information Centers
-University Union Arts and Programs
-Tourguides for the University
-Ruthven Natural History Museum
-Research Assistants (Internal Medicine and Genetics)
-Magill and Rumsey, P.C. law firm
-The Necto Nightclub
-Physics Department Office Assistant
-LS&A Dean's Office
-Touchdown's Cafe
-Border's
-Tio's
-Office of Academic Multicultural Initiatives
and many, many more!!!
I just feel it is important for all of you to see how diverse our sisters are. You could be walking down practically any street and be able to find one of them working at a resturant, office, or night club. It is amazing to have these girls as references also when looking for a job.
I know personally how nice it is to have a surprise visit while working. So if you are ever in the mood for a burrito, latte, or would like a tour of campus or museum stop and see one of our lovely ladies. They would love to see you!
Posted by rlbrewer at 02:04 AM | Comments (0)
February 15, 2007
Fun Stuff Coming Up!!!
Here is a quick update on things taking place within our house and outside as well. We should all be eager to support our sisters!!!
THIS WEEK:
Thursday, Feb. 15
-Greek Week Team Mixer with Pi Kappa Alpha and Delta Upsilon
@ PIKE @ 10pm
Friday, Feb. 16
-Formal Dinner
@ Alpha Delta Pi @ 5:30pm
***This is an honor to be hosting this dinner for several district leaders of our Alpha Delta Pi community. Just a reminder this dinner is FORMAL attire!
Saturday, Feb. 17
-Dance Marathon Charity Ball
***Also girls who are not yet involved in Dance Marathon...sign up to morale!!! It is a great, fun way to support your sisters and we earn points for Greek Week!
FOR MORE INFO VISIT UMDM.ORG!
EVENTS TO LOOK FORWARD TO:
Friday, March 16
-Harmonettes Concert, a female a cappella group
@8pm @ The Michigan League
***The theme is Shamrockappella
Thursday, March 29
-Dance Mix 2007
***Indigo Dance Team will be performing.
LOOK FORWARD TO THESE AS WELL:
March 24-25
Dance Marathon
April 14-15 Relay for Life

***Please don't forget to let me know of anything that you might be involved in on campus that has any upcoming events. Feel free to email me at any time rlbrewer@umich.edu

Posted by rlbrewer at 02:19 AM | Comments (0)
February 13, 2007
ADPi Intramural Field Hockey Team
This year Alpha Delta Pi created its first intramural field hockey team. The team consisted of both old and new players. Creaters of the team were Laura and Kaitlyn, who recruited other members of the house to make a full team. Lisa, Kelly, and Maureen were all experienced players from high school. Last year both Kaitlyn and Maureen played on the same intramural team. New players, Caitlin and Alyssa also made valuabale contributions to the team. It was fun for all the former high school rivals to unite together and play on the same team. It was difficult to have a team with so few players, as the game is very tiring, but the team held strong and played every game the best they could. At times there were no substitutes for the team, and sometimes they were even shorthanded.
There were six teams total playing in this intramural sport, and surprisingly, our team was the only team that was not co-ed. Typically field hockey is thought of as a female sport, but actually field hockey is popular for both men and women around the world. It is one of the most popular sports in the world, and is very popular in countries such as Pakistan, India, The Netherlands, and South Africa. You can learn more about the rules of the game and the sport at the USA Field Hockey Official Site.
Unfortunately, the ADPi team did not have a very successful season, but it was fun nonetheless. Caitlin, an unexperienced player, stepped up and played goalie for the team. The team named Alyssa as the most improved player for the team because she had never played before and scored goals for the team on her first day.
ADPi's next intramural team will most likely be broomball, but our athletic chair will allow any team to be created if there is enough interest from the house. If you have a sport you are intersted in and want to put a team together, let the house know! You can find out what IM sports are avaliable and when registration deadlines are at http://www.recsports.umich.edu/intramurals/
Posted by ckaitlyn at 11:43 AM | Comments (0)
ADPi Traveling Leadership Consultant
On Tuesday, February 6, the Alpha Delta Pi Traveling Leadership Consultant visited our Beta Eta chapter to rank our house as a whole and provide advice for each individual officer. Originally from San Diego, California, Jackie travels across the country to visit national ADPi houses and offer her extensive knowledge and guidance.
Throughout the week, officers interviewed with Jackie to discuss the chapter's strengths and weaknesses. I spoke with her for about an hour and walked out of the meeting feeling completely overwhelmed. As VP Finance, I was not aware of many tasks for which I am responsible. Apparently, I am required to update the officer budgets by entering expense/reimbursement forms in Quickbooks; moreover, I am supposed to print off these revised budgets and hand them to each officer. With a large chapter such as ours, this is a tedious task. Additionally, I failed to follow a few COB rules. These rules include specifications of standards procedures for dues collections, charging for date parties, and certain aspects of the budget.
Despite these negative comments, Jackie was extremely helpful. She made sure to point out our strongpoints and provide positive advice for the future. I hope every other officer got just as much out of her visit as I did. I think we all learned at least one thing: We need to know our bylaws and Chapter Operations Book like the back of our hands.
On Friday, February 16, Jackie will visit our house once more, as she will be attending the formal dinner. This weekend, many of our ADPi Beta Eta officers will be traveling to Ypsilant to attend the annual District Leadership Conference.
Posted by shillaik at 10:50 AM | Comments (1)
February 08, 2007
Women Leading Women Conference
On Wednesday, February 7, 2007, the University of Michigan Panhellenic Association held its annual Women Leading Women Conference. Attendees included the Executive Committee members and additional officers of each Panhellenic sorority on campus. Specifically, Alpha Delta Pi brought ten members: Our president Ellen, Director of Standards Kaitlin, VP Finance Kelly, Director of Social Enrichment Casey, Member Education Vice President Freya , Scholarship Chair Jessica, Philanthropy Chair Jessica, Formal Recruitment Chair Kaitlyn, New Member Coordinator Kelley, and Public Relations Chair Andrea. Rebecca, as MEVP of the Panhellenic council facilitated the event.
The goal of this workshop was to inform chapter leaders on how to be more influential within the sorority houses and throughout campus. Keynote speakers addressed leadership tactics, job skills, and relationships among different houses. Additionally, each officer joined a group with members of other chapters to discuss issues, solutions, and job responsibilities. The Alpha Delta Pi Traveling Leadership Consultant also spoke about the many different sorority creeds and the important ties between houses on campus. Finally, each group discussed a "case study" related to specific problems associated with the group's position. A spokesperson relayed the information, concerns, and solutions with a short presentation to the entire conference. A reception followed the workshop with fruit, cheese, and cookies.
Overall, the Women Leading Women Conference was valuable, and I would like to share some of the main points:
1. Leadership tips: Have respect for others, show compassion, provide positive feedback, never say no - say "instead..." and create a plan of action, remain calm under stress, be an attentive listener, be willing to take risks, challenge yourself, ask for help when needed, and stand up for yourself.
2. Campus involvement: Look to other houses for support and help with issues, support other houses' philanthropy projects, collaborate, remember that friendly competition never hurts, do not stereotype, and always show respect.
3. Advisors: Appreciate your advisors, let them know you are grateful, do not embarrass your advisors with your actions, and respect their time and other commitments.
4. Solving house issues: Analyze the situation, prioritize concerns, provide a plan of action, follow through with the plan, set goals for the future, and follow up.
For more information about the University of Michigan Panhellenic Association, please visit the official website. The Association is a great resource for you!
Posted by shillaik at 06:31 PM | Comments (1)
Semi Formal
Alpha Delta Pi's annual Semi Formal was held on January 18th at the Club Bleu in Detroit, Michigan. With a DJ, dancing, dates, and drinks (for those of age) it was truly a night to remember. This was the first date party planned by our newly appointed social chair, Casey, and it turned out to be a huge success. With about 270 guests in attendance, it was one of the largest date parties ADPi has ever had. Everyone was well behaved, cooperative, and all those helping to run the event helped make it enjoyable for everyone.
Semi Formal was the first date party of the semester, and the first formal one for the newly initiated delta members. Date parties are always a fun way to have all the pledge classes together at one time, which is rare. Although usually held in the Fall semester, the change of date was not a problem and the number of women in attendance was actually higher than usual.
Club Bleu is located in the Entertainment district in Detroit, Michigan on Woodward Avenue. This club is a popular venue for fashion shows, movie premiers such as 8Mile, and Sports Illustrated events. The club will be celebrating its 6th year anniversary the weekend of February 16th. It hosts both DJs and live performances. Click here to visit their website and learn more.
If anyone has any stories to share please make a comment on this blog!
Posted by ckaitlyn at 05:40 PM | Comments (0)
Variety - Team 1, Greek Week 2007
Variety is an annual dance competition that occurs during Greek Week. Greek Week is actually over a week of daily competitions between the thirteen greek teams involved. Teams consist of one sorority and from one to three fraternities. The Variety show falls on the last day of Greek Week, or for this year, March 27, 2007. It is the final competition and chance for our team to take home the title of Greek Week Champions 2007.
This year, Alpha Delta Pi is paired with Pi Kappa Alpha and Delta Upsilon. We are "team 1" and we will be number 1 without a doubt. Variety already amazes me. The guys help with every aspect, including choreography, song picks, and costume design. The Variety theme is "Remember the Name," and all of our songs reflect big names in the hip hop industry. The final song picks are "Remember the Name" by Fort Minor, "Gimme That" by Chris Brown, "Cry Me a River" by Justin Timberlake, "Yeah" by Usher, and "Icebox" by Omarion. Visit MTV.com to watch all of the videos! The songs make the audience want to stand up and start dancing with us. Our team is going to love it!
In addition to having great songs and a hard-working, talented team, practice is going so smoothly. We know two out of the five songs, and we still have two months to learn the next three and perfect the entire dance. We are already far ahead of many teams who are just now holding tryouts. I will keep you updated on our progress, and mark your calendars for March 27. You do not want to miss variety. Go team 1!

Posted by shillaik at 12:36 PM | Comments (1)
Alpha Delta Pi---First. Finest. Forever.
***Alpha Delta Pi History***
Alpha Delta Pi sorority was founded on May 15, 1851 at Wesleyan College and was the
first
secret society for women. Originally named Alpha Delta Phi, which was found later to be a men's fraternity in northern Iowa, Alpha Delta Pi prides itself in selecting only the
finest
women for its annual recruitment. Alpha Delta Pi is founded on the principles of scholarship, leadership, service, and sisterhood. Alpha Delta Pi sorority is a community and legacy that will live and grow
forever
.
***Symbols of Sisterhood***
Badge
This is the badge that is worn by all initiated members of Alpha Delta Pi. Along with the badge comes an understanding of proper badge etiquette and pride.
Mascot
The mascot of Alpha Delta Pi is a lion who is nicknamed Alphie.
Official Colors
Alpha Delta Pi's colors are azure blue and white. The azure blue symbolizes friendship while white symbolizes sincerity and truth. These are the points upon which Alpha Delta Pi was founded.
Official Flower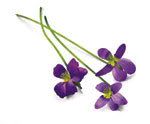 The official flower is the Woodland Violet which grows wild and is not available for purchase so is often substituted by the African Violet.
Motto

Creed of Alpha Delta Pi
The creed of Alpha Delta Pi demonstrates several of the beliefs and values of Alpha Delta and Pi and its members. Here is our creed:

I believe in Alpha Delta Pi. I believe that my sorority is more than a ritual or symbol; that it is a way of life.I believe that the principles developed by our founders in 1851 are enduring attributes, exemplifying the highest ideas of Christian Womanhood. I believe that our motto, "We Live For Each Other", expresses the true spirit of fraternity; and that by living this motto my life will be enriched by true friendships and by unselfish service to mankind. I believe that the privilege of membership in Alpha Delta Pi brings the responisbility to do my best in whatever I undertake, always remembering that leadership requires confidencetempered with humility and courage blended with confidence. I believe that I must strive to become a well-balanced person by following the dictates of the four points symbolized by our diamond-shaped badge: first, strengthening my own character and personality; second, watching my attitudes toward my fellow-beings; third, recognizing the value of high educational standards; and fourth,developing faith and loyalty. I believe that these four guide-posts, guarded by the stars and friendly clasped hands in the Adelphean bonds of fellowship, will lead me to achieve a rich and useful life.

***All of this information and more can be found on our national website AlphaDeltaPi.org!
Posted by rlbrewer at 11:51 AM | Comments (0)
February 06, 2007
Topic Announcement

Welcome to the unofficial blog of the Beta Eta chapter of Alpha Delta Pi sorority. In order to improve communication between the members of our house, we are using the topical blog assignment to create an interactive site available to all of our sisters. We hope this will serve as an online calendar of events as well as an evaluation of past events. Additionally, we will discuss the history, philanthropy, and campus involvement of Alpha Delta Pi.
Please feel free to comment on our site about what topics you would like to see discussed and add any questions or concerns you may have.
Diamond love from your sisters,
Rebecca Brewer
Kelly Shillair
Kaitlyn Connelly
Posted by ckaitlyn at 06:34 PM | Comments (0) | TrackBack
February 05, 2007
Welcome!
Rebecca Brewer - Section 004
Kelly Shillair - Section 001
Kaitlyn Connelly - Section 003
Topical Blog Assignment - "Alpha Delta Pi"

Posted by shillaik at 06:26 PM | Comments (0)
February 02, 2007
Chapter 12
Body goes here
---
Headings are cool!
---
Posted by ckaitlyn at 04:01 PM | Comments (0)
Chapter 9
This Is Section One
---
Click Here to Go to Section 2!
This Is Section Two
---
Click Here to Go to Section 3!
This Is Section Three
---
Click Here to Go to Section 1!
This page Copyright © Little Joe's Pages & davesite.com.
Back to The Tutorial!
Posted by ckaitlyn at 03:53 PM
Chapter 8
Hey I'm Yellow Text... Change my color!
Hey I'm Purple Change My Color!
This page Copyright © Little Joe's Pages & davesite.com.
Posted by ckaitlyn at 03:41 PM | Comments (0)
Chapter 7
Body goes here
---
Headings are cool!
---
pencils
pens
erasers
paper
glue
Posted by ckaitlyn at 03:31 PM | Comments (0)
Chapter 6
This page Copyright © Little Joe's Pages & davesite.com.
Posted by ckaitlyn at 03:26 PM | Comments (0)
Chapter 5
Body goes here
---
Headings are cool!
div is also a cool tag!
This link should be red if you haven't visited davesite.com/ and green if you have.
Posted by ckaitlyn at 03:24 PM | Comments (0)
Chapter 4
Body goes here
---
Headings are cool!
I can use text links... Visit Dave's Site!
---
and Image Links...
Posted by ckaitlyn at 03:21 PM | Comments (0)
January 23, 2007
Chapter 3
Body goes here
---
Headings are cool!
Bold text is fun!
Underline is cool too!
Posted by ckaitlyn at 12:07 PM | Comments (0)
Chapter 2
Body goes here
---
Headings are cool!
Posted by ckaitlyn at 11:52 AM | Comments (0)