« Test | Main | Places to play »
October 24, 2007
An Introduction
While it isn't too surprising that the world's most popular sports are soccer, cricket, volleyball, and tennis, rounding out the list is the oft-forgotten (at least in the US) sport of table tennis. With players ranging from amateurs playing in basements to professionals training in gyms, nearly 900 million people follow the sport.
When I came to the University of Michigan last year, I was shocked at how few people played the game. Most of my high school friends played table tennis, and I assumed that it would be even more popular in college. Additionally, my parents nostalgically claim that table tennis was their game of choice for them in college.
With my blog I intend to promote Table Tennis as a sport by giving advice to beginners, reviews on equipment, and recommendations on the best places to play on campus.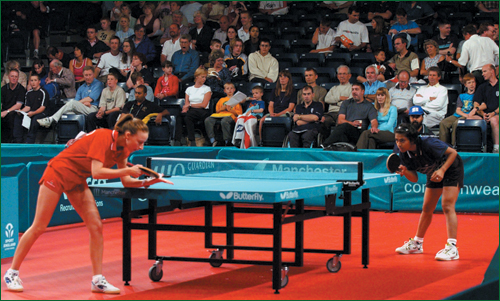 This is the way the game should be played.
Posted by djablons at October 24, 2007 03:58 PM
Comments
Login
to leave a comment.
Create
a new account.