« February 2007 | Main | April 2007 »
March 31, 2007
Washington/Political News
"Bush repeats veto threat on Iraq funding bill"
In his Saturday radio address, President Bush repeated his threat to veto bills setting non-binding deadlines for withdrawal in Iraq and raising taxes. He claimed again that setting such "arbitrary" deadlines would threaten U.S. security and that Democrats would raise taxes by nearly $400 billion in taxes to put to their special interest projects. Bush believes that his plan would eliminate the federal deficit in five years.
The Democrats responded by saying that their bill provided sufficient funding for the troops in addition to providing a "much-needed change" in Bush's Iraq policy, money to fix Walter Reed, and funds to provide troops and veterans with health care.
For more information, click here
Picture from here
Posted by glovisa at 01:41 PM | Comments (0)
Local News
After shaking hands on a proposed compact to prevent states from the "Sun Belt" from draining the Great Lakes, the surrounding stats are finding their biggest complaints are coming from their own citizens.
The compact would effect local user by having them regulate their water use and adopt conservation methods for any endeavor requiring a lot of water. For these reasons, people throughout the Great Lakes Region are aganist the compact.
As of yet, Minnesota is the only state to ratify the compact. The other mid-western states are lagging behind, but are expected to follow accordingly within the next few years.
Despite feuds between critics and supporters of the compact, the general concensus within the region is that implementing water management is necessary before real problems occur.
Posted by caldamyk at 11:23 AM
March 27, 2007
World News
UK in 'discreet talks' with Iran
The government is attempting to "discreetly" talk to the Iranians to secure the release of 15 Royal Navy personnel, Downing Street has said.
Tony Blair's spokesman said that if the talks were unsuccessful, the government may have to become "more explicit". He said they were "utterly confident" the 15 had been in Iraqi, not Iranian, waters, when they were captured.
Earlier, Mr Blair warned of a "different phase" if diplomacy failed to secure their release.His spokesman said he was referring to a "different way" of handling talks, which could involve making public reasons why the UK was certain the group was in Iraqi waters. It is understood this could include producing evidence such as boat co-ordinates and details of the searched vessel apparently still anchored in Iraqi waters.
For more information, click the link below.
BBC Article
Posted by mneha at 03:56 PM | Comments (0)
March 22, 2007
Local News
AAFF chooses to go without state support.
In the Michigan Theatre on Tuesday, AAFF President Jay Nelson announces the suit filed against the state by the Festival and the ACLU.
After being warned by the state to either tone-down its controversial content or face funding cuts, the Ann Arbor Film Festival said no thank you to the government and decided to decline funding from the state entirely.
Severing funding ties with the state came after a former state representative accused the AAFF of breaking state obscenity laws. The AAFF chose to strategically bow out of the debate inlight of looming elections and the potential for becoming a political pawn.
Teamed-up with the American Civil Liberties Union, the AAFF has now filed a lawsuit against the state of Michigan for violating the festivals First Amendment rights.
For More on the AAFF battle with Censorship
Posted by caldamyk at 05:53 PM
March 21, 2007
Washington/Political News
"Bush Clashes With Congress on Prosecutors"
On Tuesday, President Bush and Congress clashed over the issue of the firing of several federal prosecutors. Democrats demand to know whether politics was involved in the dismissals, and due to the way the Justice Department informed Congress of the dismissals, both parties want explanations.

Congress demanded internal White House documents and testimony from top presidential aides. The White House offered informal interviews with Senior Advisor and Deputy Chief of Staff Karl Rove, former White House Counsel Harriet Miers, and two other officials as well as access to e-mail communications about the dismissals, but not internal documents due to concerns over their becoming public. Democrats turned this down saying that none of these conversations would be under oath and no transcript would exist.

For more, click the title to see the New York Times article.
Posted by glovisa at 12:20 AM | Comments (0)
March 20, 2007
World News
'Up to 600 dead' in Congo clashes
Up to 600 people may have been killed in last week's clashes in the Democratic Republic of Congo's capital, Kinshasa, European Union diplomats say.
The authorities have said about 60 people died in violence between the army and armed guards loyal to opposition leader Jean-Pierre Bemba. The EU diplomats expressed concern at the government's "premature" use of force which they say led to fighting. President Joseph Kabila said his troops put down an armed rebellion. There were enormous numbers of civilian casualties UK's ambassador Andy Sparkes. The violence threatened to derail the peace process which ended DR Congo's war and led to elections last year.
Mr Kabila defeated Mr Bemba, a former rebel leader, in a second round run-off. But Mr Bemba refused to have his armed bodyguards integrated into the national army before last week's deadline
Posted by mneha at 04:02 PM | Comments (0)
March 12, 2007
Local News
Wallstreet to Michigan: Straighten Out!
---
With the threat of a credit downgrade looming, Michigan could be facing higher borrowing interests rates.
Michigan's current year budget deficit is greater than $800 million and is the only state with a negative credit outlook according to credit rateing services.
Debate is stirring within the state on the most appropriate form of action for Michigan's climb out of deficits. Governor Granholm's solution includes a 2% tas on services which would generate an expected $1.5 billion in revenues annually. State republicans, however, feel budget cut backs would be a better solution. Heated negotiations are presumed to arise in the following weeks.
More on this story.
Posted by caldamyk at 11:28 PM
March 08, 2007
Local News
Warm Days Ahead!
---
Despite recent snowfall and single digit temperatures, meterologists are predicting a huge weather warm-up due next week.

Due to current warming trends coming from the western coast and the southwest, warm air is headed toward southern Michigan and much of the midwest begining this weekend (see above). Temperatures are expected to reach 40+ degrees initially and continue climbing throughout next week to the high 50s!These early signs of spring could be the first signal that summer is indeed on its way!
For more on this story visit: Warming Trends
Posted by caldamyk at 10:27 AM
March 06, 2007
Washington/Political News
"McCain to formally announce candidacy in April"
Arizona Senator John McCain will seek the presidency in 2008, he announced on the Late Show with David Letterman. McCain is expected to formally announce his candidacy in April, after visiting Iraq. This will be his second run after being defeated by George W. Bush in the 2000 Republican primary.
He faces tough competition, though. Former New York Mayor Rudy Guliani has widened his lead over McCain recently, and former Governor Mitt Romney is also receiving much attention. McCain also faces trouble as an outspoken supporter of the unpopular war in Iraq. However, he is still considered a top contender for the nomination.
If he wins the presidency, McCain will become the oldest person to be sworn in as a first-term president.
For more, see the article here.
Posted by glovisa at 12:21 PM | Comments (0)
March 03, 2007
World News
Pakistan military tests missile
Pakistan says it has successfully tested a short-range missile capable of carrying a nuclear warhead. A statement from Pakistan's armed forces said the test-firing proved the weapon had met its design parameters.
The Hatf-II Abdali surface-to-surface ballistic missile is said to have a range of 200km (125 miles). Last week Pakistan test fired a nuclear-capable, surface-to-surface Hatf VI missile, which has a much longer potential range of 2,000 km.
For more information, click the link below.
BBC Article
Posted by mneha at 03:27 PM | Comments (0)
March 02, 2007
Local News
In a story that continues to shock the nation and more closely Metro Detroit, Stephen Grant has pleaded not guilty after his arraingment on charges of first degree murder and dismemberment of a body.
Early this week, Grant provide a grusome confession to the killing of his wife, Tara Grant, after police found the woman's dismembered torso in the garage of the families Macomb County home.
Judge Denis LeDuc granted the prosecutor's request that Grant be tried for premeditated, or first degree murder, after autospy reports showed that Tara Grant was killed by manual strangulation, which takes approximately five minutes to occur.
Grant, who is currently without legal representation due to "irreconcilable differences", is being held without bond in light of the extreme seriousness of his charges.
Posted by caldamyk at 08:35 AM | Comments (0)
March 01, 2007
Washington/Political News
Is Black America ready to embrace Obama?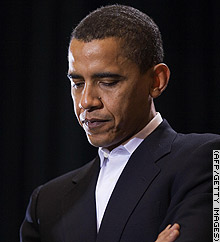 In a new poll released by the Washington Post, Senator Barack Obama now leads Senator Clinton among African-Americans by 11 points, where he was previously behind. However, he does not yet have a majority of their support and some doubt his ability to connect with the African-American community. In addition, fewer African-Americans than whites believe that America is ready for a black president.

For more, read the article linked above.
Posted by glovisa at 12:09 PM | Comments (0)