« Cognos- Value and Good Fundamentals, does she have a friend? | Main | Morgan Stanley - Buy It »
April 04, 2007
Tribune Going Private
The Tribune Company is a media and entertainment company that oversees newspaper publishing, television services, radio broadcasting and entertainment operations. The privatization of Tribune has been undertaken by University of Michigan and real-estate mogul Sam Zell. Although the Tribune Company has been in shaky waters as of late, Zell feels the company can be turned around and is excited about its internet assets. After negotiations between Zell and Tribune, negotiations concluded with an accepted $34 dollar a share proposal by Sam Zell. The proposed plan, however, has been scrutinized by some as it will take on $4.2 billion in new debt. With companies such as the LA Times under the control of the Tribune Company, Zell has noted that he does not plan to break up the company except for the selling of the Chicago Cubs at the end of this year's season. For more information about the Tribune Company please vist:
The Tribune Company.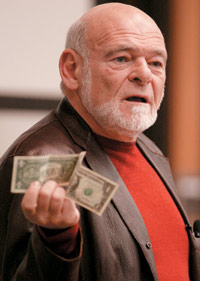 Posted by jcip at April 4, 2007 12:02 AM
Comments
Login
to leave a comment.
Create
a new account.