« Introduction | Main | Celebrity Baby Boom »
November 01, 2007
Britney's Downward Spiral Continues
Britney Spears is having quite the week. On Tuesday, the commissioner in charge of her numerous custody hearings denied her the 50-50 rights she had been expecting, and instead granted her only 3 supervised visits with her children per week, not to mention more drug testing and counseling. That very same day, her new album, Blackout, dropped in stores around the US. The CD is getting fairly good reviews, but personally, I would never buy it. Although I like her new single "Gimme More" well enough, I don't want to seem like I am condoning her behavior by supporting her in anyway. It's amazing how much she has changed since she first exploded on to the music scene. Just as a frame of comparison, check these out:
Her first video 'Baby One More Time' is a marked difference from her latest, 'Gimme More.' 'Gimme More' is a mess, clearly thrown together by her record label to try and stir up publicity for her new album. (since she will not be doing any other promotional activities). In one last attempt at stirring up buzz for her album, she briefly appeared on Ryan Seacrest's radio show on Wednesday morning. When asked about the custody hearing that occured just a day prior, and when she would see her kids next, she simply responded: "I dunno. My lawyers handle all that stuff." Now if that's not a person who deserves primary custody of their children, then I don't know who is.
Growing up, I was a huge fan of Britney Spears, attending her concerts, buying all of her CDs, and casually following the mostly positive developments in her career. Now, she's appearing on the front pages of both celebrity blog sites and cnn.com on a near daily basis - and not in a good way. I used to feel sorry for her, but between a few stints in rehab, almost weekly hearings in court, and the media circus surrounding her, I think she's had more than enough chances to wake up and get her act together. The real people we should be looking out for are her two sons, Sean Preston and Jayden James. All this erratic behavior and custody flip-flopping cannot be good for their development. She appears in court next on November 26; Hopefully by then, for her kids' sake she will prove to be a more responsible adult and parent. I wouldn't count on it.

In other news, I am so surprised about Ashley Olsen and Lance Armstrong. Talk about an odd couple - and a huge 15 year age difference!. Ashley, 21, has always had a thing for older men, so we'll see if this one lasts. Lance has been a bit of a player since he broke off his engagement with Sheryl Crow in 2006, so I'm doubtful.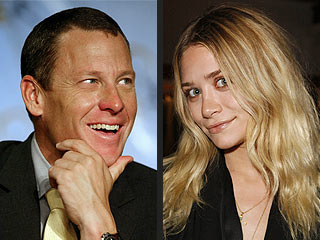 Lastly, I'll leave you with an interesting read about the blogging empire that is Perez Hilton. Happy Halloween!
Posted by lallida at November 1, 2007 10:27 AM
Comments