« October 2007 | Main | December 2007 »
November 25, 2007
2007 in Entertainment
I'm going to take a little creative liberty and divert my attention from the private lives of celebrities to their actual careers today. Every year, Entertainment Weekly publishes a list of the entertainers that they believe deserve recognition for their work over the course of the last 12 months. It's a refreshing change to read about the work that these celebrities have done rather than the restaurants they are eating in. The full list and accompanying article can be found here. Today, I'm going to comment on their picks and maybe even throw in a few replacements for some people who I don't think quite deserve to be on the list.
The mag's choice for Entertainer of the Year - the big prize - is JK Rowling. I could not agree more with their selection. JK managed to create not only an epic book series but an entire fantastical world that captivated children and adults alike for nearly a decade. I have been a huge fan of the Harry Potter books since I was first introduced to them by my elementary school librarian. The final chapter, Harry Potter and the Deathly Hallows was everything I expected and more. I read it in one seven hour sitting as soon as I could get my hands on a copy, and read it again within a month. I'm clearly not the only one who was dying to find out what happened to Harry and Co.; 8.3 MILLION copies of the book were sold within the first 24 hours of publication, and millions more in the following days and weeks. The profits made off of the book exceed most motion picture grosses, and for that figure alone, my hat is off to Rowling for making reading 'cool' again.
Zac Efron is another actor who has deservedly made the list. He exploded onto the radar in 2006 as the male lead in the Disney phenom High School Musical. The movie's soundtrack was the top grossing album of the year 2006, and the movie's sequel, High School Musical 2, was the highest rated Disney Channel show - ever. By catering to his target audience of children and slowly breaking out of his mold by starring in films like Hairspray (singing the song "Ladies' Choice in the clip above) and 2008's 17, he won't be going anywhere anytime soon. Oh, and his good looks might just help him a little.
Music's Kanye West and Carrie Underwood also had millions of CD's flying off of the shelf in 2007, while Matt Damon and George Clooney released hit films and the former was even crowned People's Sexiest Man Alive. Much like Efron, Miley Cyrus also has millions of little girls who watch her in Hannah Montana every night, and whose parents pay hundreds and even thousands of dollars for her highly coveted winter tour. I have worked with little girls for three years at my former job, and I can attest to the fact that they are completely obsessed with the show. Just last week, she appeared on Oprah, and her surprised fans went absolutely hysterical, screaming and crying because they were so excited to be in the same room with their idol. It is truly a great year to be Miley.
However, I am not so sure about the inclusion of Katherine Heigl on the list. While she (undeservedly, in my opinion) won the Best Supporting Actress Emmy for her role as "Izzie" on Grey's Anatomy, and she had a hit film with this summer's Knocked Up, I don't think she has made enough of an impact or garnered enough of a following to merit a title like Entertainer of the Year. If there was going to be a Grey's representative on the list, I think it should have been Enchanted's Patrick Dempsey, who has definitely attracted a massive fan base and opened an extremely successful movie this year. I also think that Angelina Jolie doesn't quite deserve her position on the list. She seems to be in the media lately not because of her talent, but because of her role as Brad Pitt's partner and mother of an ever-expanding clan of children. While I admire her humanitarian efforts, I couldn't even tell you what she has acted in over the course of the past year, other than her recent release Beowulf.
I felt that Entertainment Weekly did a pretty great job selecting people who really made the year in entertainment memorable. It's refreshing to actually hear about the stars in a professional capacity, but I'm sure they'll be back on the gossip headlines in no time.
Posted by lallida at 12:21 AM | Comments (0)
November 20, 2007
Stars on the Horizon
With a lot of the usual tabloid mainstays staying a little more low profile than usual, a new set of young celebrities seems to be emerging right in front of our eyes. Nicole Richie's settling down and getting ready for baby, Lindsay's taking things easy and getting her life together, and who knows, maybe Britney Spears is even trying to put her children first. While there are no clear "heir-apparents" for the constant onslaught of US Weekly covers, these new stars are out on the town and coming from a few unusual places.
What is it about Tony Romo? The Dallas Cowboys quarterback is having a fantastic season, as of now (mostly recovered from the unfortunate fumble incident), and is also a fixture on the gossip circuits. He was linked with country singer Carrie Underwood for a few months, then One Tree Hill's Sophia Bush, and now he is reportedly Jessica Simpson's new man. (updated: she even brought him home for Thanksgiving!) Something tells me that Tony loves the Hollywood scene, and is courting the celebrity girls in order to be an active part of the limelight. Jessica Simpson has been sounded pretty desperate for a new boyfriend (seeing all the pictures of ex-husband Nick Lachey and his long-time girlfriend Vanessa Minnillo probably isn't helping) lately, so hopefully her and Tony can actually make it work for longer than a few days/weeks/months...maybe Tony will actually be ready to settle down in the off-season and shed a bit of his player reputation.
The amazingly good looking cast of the CW's Gossip Girl is also stirring up some buzz while they gallivant around New York City and Hollywood. The new show, based on a successful book series by Cecily von Ziegesar, is getting tepid ratings, but is performing extremely well on the digital download circuit, and was recently picked up for a full season by the network. It's young stars, including Blake Lively, Leighton Meester, and Chace Crawford, have been getting some media coverage, but none seem to be behaving too badly yet (unlike their scandalous characters). Chace Crawford is currently dating Carrie Underwood, and although there have been some rumors (maybe started by Perez himself) that he is cheating, sources close to the pair say they are more together than ever. As long as these newly famous actors are on the screen, expect to see them in magazines and in the blogs more and more as time goes on - especially if our old gossip mainstays continue to behave.
Speaking of well dressed young people, the jet-setting Suri Cruise has been in the media lately (but what else is new?) Pictured in a cute little Burberry jumper above, Suri constantly looks ready to be photographed and already prepared for the red-carpet trips that are surely in her future. She has not only been to more countries (with amazing accommodations, no less) than I have, she recently became shoe designer Christian Louboutin's youngest red-sole wearing customer ever. Maybe I would be jealous if she didn't always look so cute. Am I the only one hoping that decades in the future, we have a Suri-Romeo Beckham boy pairing (see below?) They are such good looking children, and their parents are great friends...
Posted by lallida at 11:25 AM | Comments (0)
November 14, 2007
Strikes
For those of you who are not familiar with the current Writer's Guild of America strike, I highly recommend you read this article, written by Damon Lindelof, the head writer of ABC's Lost. Essentially, the writers are demanding royalties on internet viewings of their television shows. When websites like ABC or NBC air episodes of their popular TV shows, the studios receive all of the profits and ad revenue, and the writers don't see a penny. With the future of television looking more and more like the internet (with increasingly technological mediums), writers are acting proactively by seeking a cut of their deserved earnings before it is too late.
As an avid television viewer, the strike is looking extremely bleak. As soon as the already completed episodes of our favorite television shows air, we probably won't see new material until at least next September. Tomorrow's episode of The Office is the last of the series, and other popular shows like Desperate Housewives and Grey's Anatomy won't continue for much longer either. We're looking at a winter filled with reruns and endless amounts of reality TV. Already CBS has accelerated production on Big Brother, ordinarily a staple of its summer schedule. It could now begin as soon as February. High profile writers like Lindelof and Tina Fey have even gone on the record stating that they don't see an end for this strike anytime in the near future. Hopefully when ratings for all shows other than American Idol inevitably plummet during the winter, studios will come to their senses and give the writers a cut of what they deserve, and we can see new episodes or our favorite shows as soon as possible.
Another strike that is receiving less publicity but is still affecting the entertainment industry as a whole is that of the Broadway stagehands. The holiday season is undoubtedly the most profitable for these shows, and the bright lights of many theaters have gone dark indefinitely. The workers have not yet gone on the record detailing their demands, but they claim that they are fighting for a fair contract that is representative of the work that they do day in and day out. Popular shows like Rent, Wicked, Mamma Mia, and The Phantom of the Opera have shut down, and only 8 productions are currently continuing on. All of the play-goers are receiving refunds for their tickets, but that doesn't necessarily make up for the disappointment of coming all the way to New York City and being turned away at the door of a Broadway theater. Although negotiations are occurring, it is looking more and more like the show will not go on for December tourists visiting the city.
Posted by lallida at 03:47 PM | Comments (0)
November 08, 2007
Celebrity Baby Boom
Over the course of the past week, Christina Aguilera and Jennifer Lopez finally admitted their pregnancies. They have both been quite obviously pregnant for a while, so it's nice to see them actually coming clean about it. Xtina shared the news in an interview with Glamour magazine while J.Lo confirmed the rumors at the final show of her joint tour with husband Marc Anthony. Check out her announcement below:
While I am glad that both ladies finally decided to open up about their situations, I do think that it was refreshing that they resisted pressure from the media to talk about it at every possible outlet. They have both appeared on various talk shows and magazine covers, and up until now, declined to comment on their situations. I appreciate their attempt at keeping their private lives private in such a public world, but, the truth coming out was more than inevitable. It's not like pregnancies are very easy to conceal.

Julia Roberts, meanwhile, said that she was done having kids. I am glad that she is able to balance being a famous actress as well as a seemingly good mother, but I hope to see her return to the big screen soon. She has starred in some of my favorite movies, like Erin Brockovich, My Best Friend's Wedding, and Pretty Woman, and hopefully there will be more to come. She has, however, offered to reach out and help the trainwreck that is Britney Spears. Whether she was joking or not, we all know that Brit could use the help from a mother figure (especially since she is famously estranged from her own).
Another thing that is blowing up the entertainment news circuits is the Writer's Guild of America strike. This has had an instant impact on television, shutting down production on late night talk shows and many scripted programs. The Office and Desperate Housewives have gone dark, and the season premiere of 24 has been pushed back indefinitely. This is just the beginning. If studios and their writers don't come to an agreement, we could be facing a lack of new scripted programming for months to come. Expect a blog entry in the next couple days detailing the demands of the writers and how this strike has been playing out so far. Personally, I hope it doesn't take very long for them to find some sort of common ground. I am a huge fan of many of these television shows, and couldn't bear to see months upon months of reruns. We'll see what happens.
Posted by lallida at 02:44 PM | Comments (0)
November 01, 2007
Britney's Downward Spiral Continues
Britney Spears is having quite the week. On Tuesday, the commissioner in charge of her numerous custody hearings denied her the 50-50 rights she had been expecting, and instead granted her only 3 supervised visits with her children per week, not to mention more drug testing and counseling. That very same day, her new album, Blackout, dropped in stores around the US. The CD is getting fairly good reviews, but personally, I would never buy it. Although I like her new single "Gimme More" well enough, I don't want to seem like I am condoning her behavior by supporting her in anyway. It's amazing how much she has changed since she first exploded on to the music scene. Just as a frame of comparison, check these out:
Her first video 'Baby One More Time' is a marked difference from her latest, 'Gimme More.' 'Gimme More' is a mess, clearly thrown together by her record label to try and stir up publicity for her new album. (since she will not be doing any other promotional activities). In one last attempt at stirring up buzz for her album, she briefly appeared on Ryan Seacrest's radio show on Wednesday morning. When asked about the custody hearing that occured just a day prior, and when she would see her kids next, she simply responded: "I dunno. My lawyers handle all that stuff." Now if that's not a person who deserves primary custody of their children, then I don't know who is.
Growing up, I was a huge fan of Britney Spears, attending her concerts, buying all of her CDs, and casually following the mostly positive developments in her career. Now, she's appearing on the front pages of both celebrity blog sites and cnn.com on a near daily basis - and not in a good way. I used to feel sorry for her, but between a few stints in rehab, almost weekly hearings in court, and the media circus surrounding her, I think she's had more than enough chances to wake up and get her act together. The real people we should be looking out for are her two sons, Sean Preston and Jayden James. All this erratic behavior and custody flip-flopping cannot be good for their development. She appears in court next on November 26; Hopefully by then, for her kids' sake she will prove to be a more responsible adult and parent. I wouldn't count on it.

In other news, I am so surprised about Ashley Olsen and Lance Armstrong. Talk about an odd couple - and a huge 15 year age difference!. Ashley, 21, has always had a thing for older men, so we'll see if this one lasts. Lance has been a bit of a player since he broke off his engagement with Sheryl Crow in 2006, so I'm doubtful.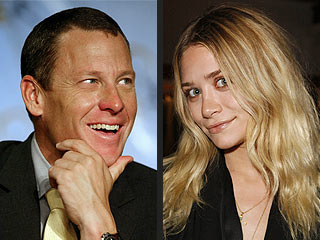 Lastly, I'll leave you with an interesting read about the blogging empire that is Perez Hilton. Happy Halloween!
Posted by lallida at 10:27 AM | Comments (0)