« Welcome | Main | Term Project Blog 2: New Memory Devices »
October 16, 2006
Term Project Blog 1: Smartphones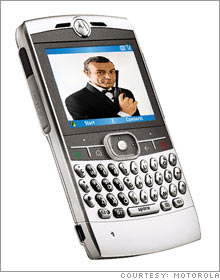 The article "Smartphones: Not Ready for Prime Time – Yet," discusses the recent boom of smartphones. Smartphones are cell phones with various other capabilities. Users can access e-mail, open attachments, work on spreadsheets and organize calendars. These have been popular in corporate settings, and manufacturers are now attempting to target consumers, emphasizing newer smartphone features such as MP3 players and instant messaging. Lower cost options are becoming available, which will help attract consumers not willing to pay top price for this product. There is concern that consumers will not be interested in this product that had previously been targeted to help with the organization of business professionals. It is too soon to determine whether or not manufacturers will attract a wider market as more functions are added to the smartphone.
This is a useful product in the business world, as it makes it easy for one to communicate with colleagues while on a business trip. They can stay organized and be sure to make it to all meetings. They are also useful if one has time off, but still needs to stay in touch with the office, is waiting for an important e-mail or looking up specific company information. We have seen family and friends use some type of smartphone when visiting during their vacation time. They do not have to worry about staying right by a computer to obtain specific information, so they are still able to relax. For the busy working man or woman, the smartphone is very convenient.
The general consumer will use the product quite differently. Someone that travels often and communicates much via e-mail and instant messenger, may find the functions of a smartphone valuable instead of simply relying on a cellphone for communication. The smartphone combines different technologies like camera phones, instant messaging, and MP3 players. It could be convenient for the tech savvy individual to have just one device with the various capabilities, but may be more confusing for someone with little knowledge on technology. At the initial $300-$500 for a smartphone, many would not find it worth it. As manufacturers come out with less expensive versions, they may gain more appeal. Consumers can use them but do not need them, so they will be easier to market if they are less expensive. We would utilize a smartphone in the future in a business setting but it would currently not be worth it to us to have one. It will be nice to access business information, e-mails, and your calendar at anytime, anywhere. However, if you are not traveling often, this information is easily accessible without a smartphone. The additional functions such as MP3 are a nice addition, but would not convince us to buy this business device if we would not also be utilizing the other functions.
Posted by traceyja at October 16, 2006 01:32 PM
Comments
Login
to leave a comment.
Create
a new account.