« Term Project Blog 4: The Long Arm of the Cell Phone | Main | Search Tip #2: Archivable Forums »
November 04, 2006
Search Tip #1: Grokker
Grokker.com is a unique search engine for those who are tired of sorting through websites on traditional search engines. On the homepage, the user types in the topic he or she is searching for and selects whether to find results from Yahoo, Wikipedia, Amazon Books, or all three. After typing in a subject such as "technology news", the user must hit the "GROK" button. The results are generated and separated into categories in an outline format. The user can then click on different headings, and the sites for that topic appear listed on the right hand side of the page.
For a more visual experience, the user can select the "Map View" tab at the top of the page. The topics are then filtered by size and color for the user to easily scan through the results. Categories with larger circles have more results. Within each large green circle category, there are smaller blue circle categories that also vary in size depending on the number of results. When a user clicks on one of the green circles, the browser zooms in for a closer look at the topics covered in the inner blue circles. By clicking on a blue circle, the browser zooms even more to show specific websites. When the user clicks on one of the individual websites, a description appears on the right hand side of the page. The user can then click "View Document" and the website will appear in a new page. This is helpful so that users do not have to re-search their topic after they finish with one of the web pages.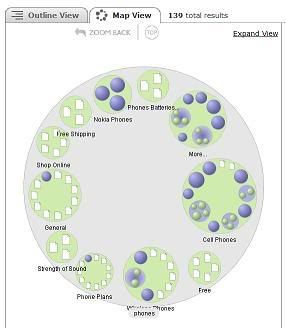 In addition to giving a summary of the website on the right side, Grokker gives users other options. He or she can click on one of the links to "Add to Working List", "Post to del.icio.us", "Bookmark", or "E-mail" the chosen site. Once a user has added sites to the working list, he or she can export or e-mail the working list. Grokker was obviously made with the user in mind, making it a perfect resource for any student.

Posted by sumorgan at November 4, 2006 07:30 PM
Comments
Login
to leave a comment.
Create
a new account.